Turning My Web Design Knowledge Into a Profitable Book
Hello! What's your background, and what are you working on?
Hi, I'm Jane Portman, an independent UI/UX consultant and the founder of UI Breakfast and Tiny Reminder. Previously a creative director at a large agency, I went solo in 2012 when my first son was born. Ever since, I've been writing books, running a podcast, speaking at conferences, and doing other awesome things.
Today, I'll share the story of The UI Audit — my third book, which focuses on designing web applications. Published in March 2016, the book has made over $14,000 as of today, and has helped a lot of founders figure out their UI/UX issues.
What motivated you to get started with The UI Audit?
In the middle of 2015, I was facing serious burnout. I'd taken on a lot of consulting work, and also accepted an offer from InVision to write a book for them. I wrote Fundamental UI Design in just one month. (You can read more about it in my yearly report). No wonder I was burned out!
After meeting Amy Hoy in Philadelphia, I decided to cut off consulting entirely and focus on products. I took up her "Ship by September" challenge, and started The UI Audit. My goal was to create a self-help UI/UX guide for founders who couldn't afford expensive consulting services. I wanted to extract and write down my approach to web application design, which is all about simplicity and focus.
Should it be a course or a book? I hesitated a lot. Research showed that design is a pain, but never the highest priority for founders, and also that they strive for "a quick fix." So I decided to make it a book — lower price point, less commitment, faster results, better reach.
Life got in the way, and instead of shipping the entire thing by September, all I shipped were pre-orders. And they validated great interest in the book! By the time the book launched the following year, I already had about $3,500 in pre-orders. I also gave a talk at MicroConf Europe that year, named The 1-Hour UI Audit.
What went into getting the book out the door?
The book took about 6 months to write. To collect material and polish the method, I conducted a large number of custom UI audits for my clients (as a productized consulting service). So The UI Audit is based entirely on real-life problems found in existing web applications.
Simultaneously, I arranged and recorded 6 audio interviews with successful SaaS founders, including the founders of Drip, Calendly, Teachable, and Balsamiq. Getting the interviews transcribed was a smart move: I read through them afterwards and included the best quotes into the body of the book. Compare this to a bulk of audio files, which can't be used like that!
With all these things in place, I knew exactly what to write — and more importantly, what not to write — to keep the book focused and helpful. I had the core ideas already written down for the talk and the free course, so the rest of the book took a few weeks to write and edit.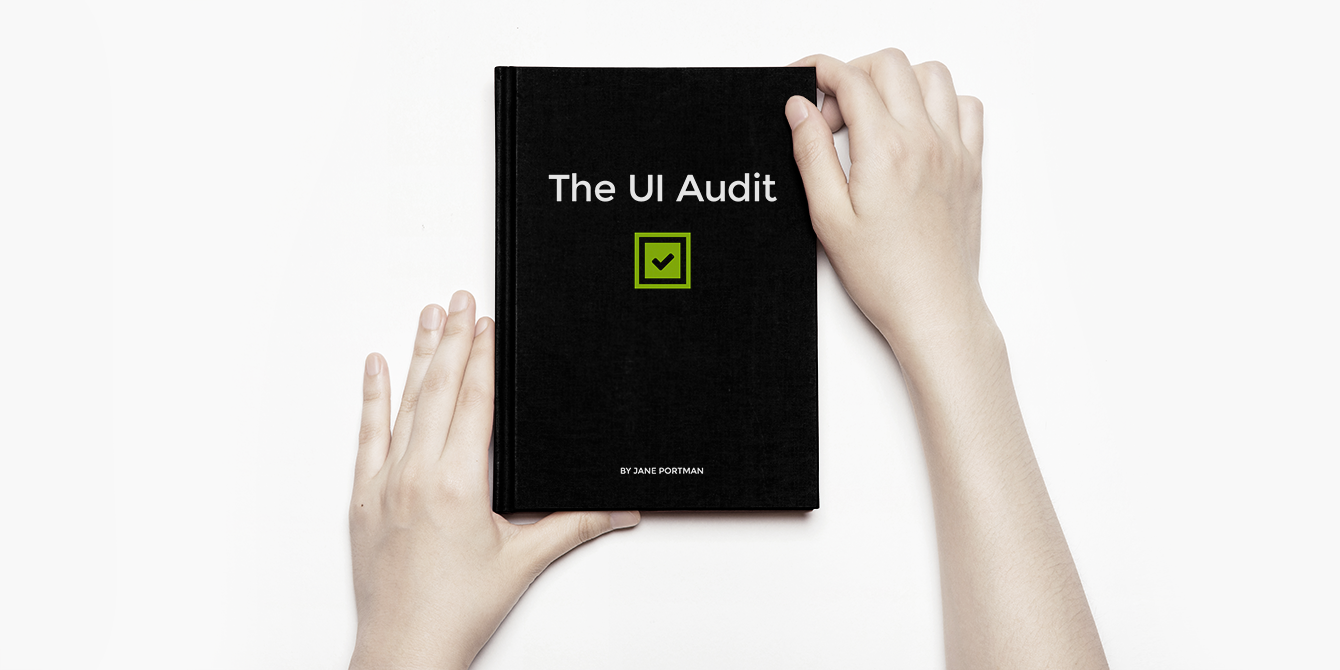 Books, as opposed to software, are quite inexpensive to produce. I only paid for two rounds of editing for the draft, plus audio editing and transcription. I wrote the whole thing in Markdown (Byword is a gorgeous writing tool) and then produced the PDFs using InDesign (thanks to the markdownID script). I also used InDesign to put together printable worksheets for the top tier.
An interesting thing happened with regarding illustrations: When the final draft was ready, they seemed unnecessary! Beta-readers reassured me about that. The UI Audit is an exercise you can do with any UI in front of your eyes.
How have you attracted users and grown The UI Audit?
By the time I'd started on the book, I already had a large and loyal mailing list with about 5,000 subscribers. It was a great competitive advantage!
To attract new people, I shipped a free email course in January 2016 called The 1-Hour UI Audit. I launched the course on Product Hunt and it did very well. (This was before they started downplaying free courses.)
As part of the launch campaign, I sent out sample chapters, worksheets, and other freebies. I also released two founder interviews for free on the UI Breakfast Podcast to tease the audience.
The book itself launched on March 31st to my list and on Product Hunt. The launch day was exciting, but not huge in terms of sales: all the low-hanging fruit had already been collected during the pre-order phase.
But my post-launch efforts built exposure and helped sales roll in throughout the year. I did a podcast tour around the book launch, which resulted in 9 podcast appearances. (I keep track of them in my content guide.) It's hard to track sales, but the cumulative effect was obvious.
I also wrote a series of blog posts for InVision, which was super effective — they have a huge audience and do a fantastic job of promoting their content. Again, my collaboration with InVision goes back to that previous book, and I treasure this relationship.
What strategies have you used to increase your sales?
The first big thing that helped me make more money was self-publishing with multiple tiers. I launched with three packages: the standalone book, the complete package, and a package which includes an individual consultation. A tiered system like this gives your most loyal readers an opportunity to buy more awesome content and pay you more.
The second thing is promotions and discounts. Whenever I went to a promotional event, I made a custom discount for the book. I also did flash sales to my mailing list from time to time.
As with any one-off product, the sales have declined with time. I could probably make some cash by giving the book away to deal sites, but I'm not ready to give up on such a great product yet.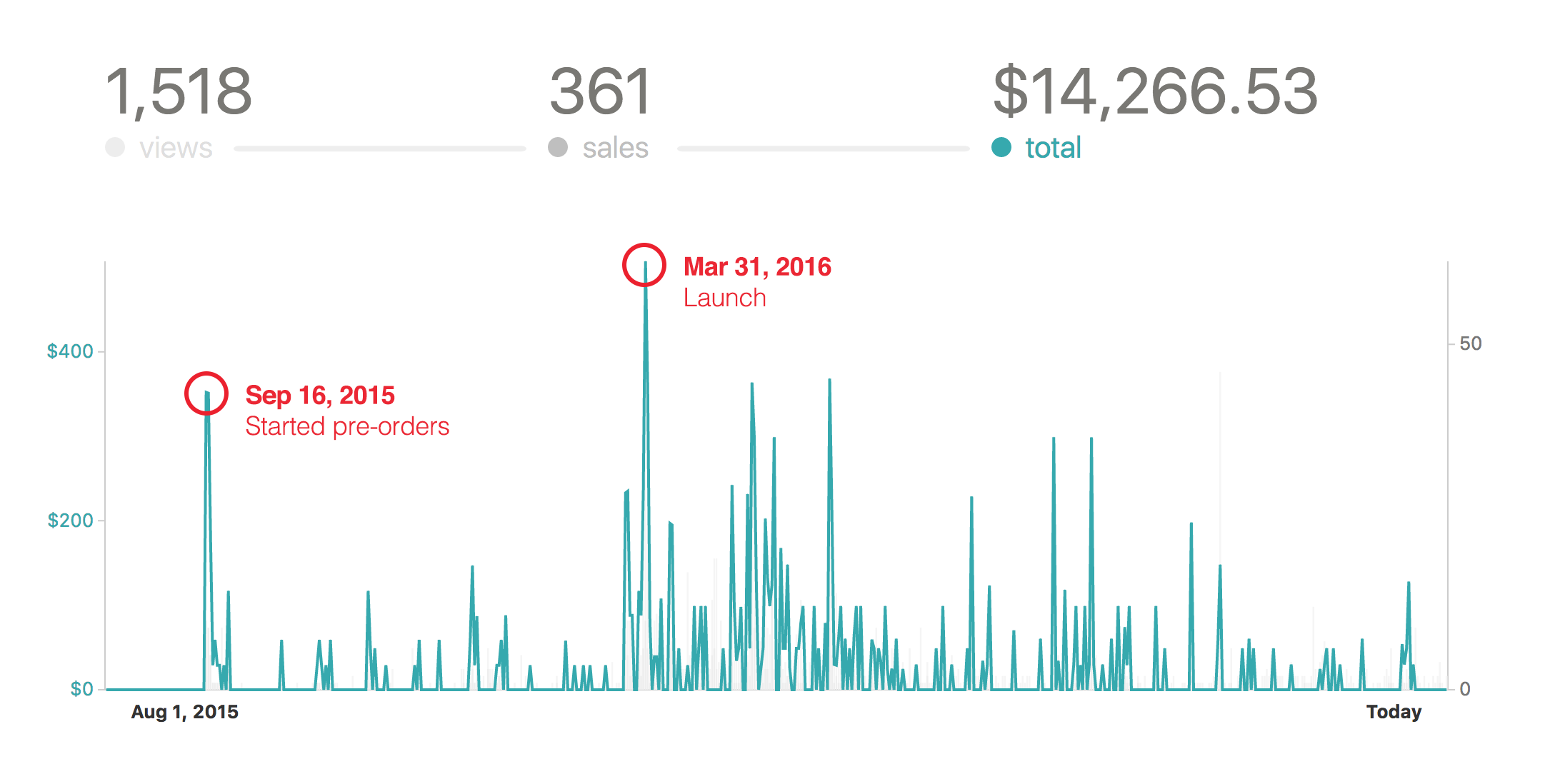 Even though The UI Audit was planned as a solo self-help product, it still integrates nicely into my ladder of consulting services. More importantly, it serves as an underlying method for all my work.
What are your goals for the future, and how do you plan to accomplish them?
This year I'm planning to launch the second version of the book. I'm going to review the text, record a new set of founder interviews, and invest in professional audio narration.
Having recently launched my own SaaS product, I have plenty of new insights to share with founders. I would also love to dedicate more attention to data-driven design and user testing.
In terms of promotion, I'm looking forward to another podcast tour — this time targeting popular UX shows.
If you had to start over, what would you do differently?
This book was my third, so I managed to avoid critical mistakes and am generally very happy with it. (By comparison, my first book, Mastering App Presentation, had incredibly vague positioning.)
If I had to start over, I'd probably go in a slightly different direction with the audience. I created The UI Audit specifically for founders, and it gave me wonderful clarity while writing the book itself and the marketing copy. After all, "niche until it hurts" is what I recommend all the time.
However, I would avoid the word "founder" in key marketing headlines this time, and shift to "functional positioning" (it's useful to all people who have to deal with UI/UX, like designers and product managers). With my laser focus on founders, I might have left a lot of potential signups on the table during Product Hunt launches.
In the fall of 2016, I rewrote the book's landing page to shift the focus from founders to a more general audience (more details here), and I'm planning to keep it this way.
There's one more thing that went awry in the beginning. I relied on Gumroad's pre-order functionality, which postpones the processing of payments until launch day. But people thought they had paid before! Instead of excitement, I got a number of people asking if they had been charged twice.
So my advice is to collect cash immediately (ship a blank PDF or something like that). Even if you fail to ship, it's much easier to give refunds than to deal with misunderstandings.
What were your biggest advantages? Was anything particularly helpful?
This time around, my biggest advantages were a large mailing list and my past experience with books. I didn't have any of that five years ago! So my advice here is to try again, launch small things first, and never give up on the product idea.
I also wouldn't have gotten too far without my friends. They cheered me up along the way, made great beta-readers, and helped with promotion.
What's your advice for indie hackers who are just starting out?
The most important thing is focus. You don't have to be everything for everyone. Moreover, that's dangerous! Pick a specific purpose for your book, and a specific audience. Write an outline, and stick to it.
I highly recommend Authority by Nathan Barry. This book helped me a ton the first time.
I also recommend that you try sales safari while doing research for your product. This is a method from Amy Hoy's 30x500 program, which entails exploring forums and other communities.
If writing scares you, try hiring an editor first — that's what I did with my first book. I showed her a couple chapters and she reassured me that my writing was legitimate. That was all I needed to hear!
Where can we go to learn more?
First, the book we're talking about: The UI Audit. Download your free chapter with worksheets, and use the promocode INDIEHACKERS39 at checkout to get 39% off any book package.
Then a few book-related posts:
And the key things I do online:
Thank you for reading through the entire story! Should you have questions, I'll be happy to answer them in the comments below.
—

Jane Portman , Creator of The UI Audit
Want to build your own business like The UI Audit?
You should join the Indie Hackers community! 🤗
We're a few thousand founders helping each other build profitable businesses and side projects. Come share what you're working on and get feedback from your peers.
Not ready to get started on your product yet? No problem. The community is a great place to meet people, learn, and get your feet wet. Feel free to just browse!
—

Courtland Allen , Indie Hackers founder