Using SEO to Grow My Niche Mapping Company to $2,000/mo
Hello! What's your background, and what are you working on?
Hi, I'm Ted Grajeda, founder of Free Vector Maps. I've been a designer since way back in the last century, when I moved to London and started working on this new thing called the Internet. I currently live in the States, but I've lived in the UK and New Zealand.
Free Vector Maps is exactly what it says it is. It's a free, consistent, quality library of vector maps for designers around the world. You can find every country in the world — states, continents, globes, and more — all in one place.
With over 1,400 maps now (and growing), Free Vector Maps has become the go-to source for vector maps on the web.
Free Vector Maps has been around for almost 4 years now and enjoys a solid user base with over 50,000 monthly users and 250,000 monthly page views, coming from almost every country in the world.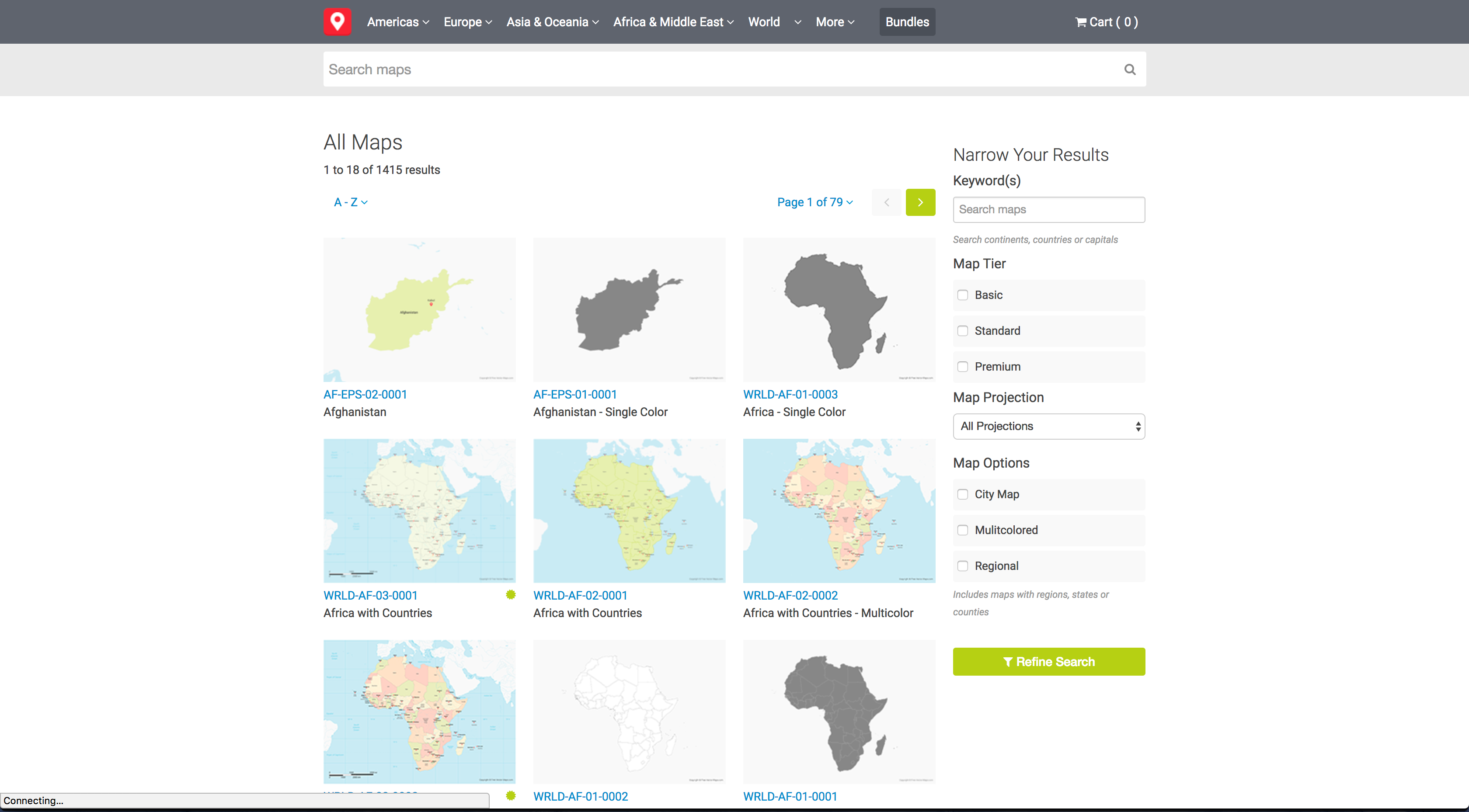 What motivated you to get started with Free Vector Maps? What were your initial goals? And how'd you come up with the idea?
Free Vector Maps is really a culmination of many of my life experiences in one.
When I was in my early 20's, I left the States to travel the world and ended up in London. Having grown up reading National Geographic, pouring over history books, and traveling around the globe, I have always had an affinity for maps. As I looked for a new project to do, maps were the logical choice.
I understood the need for maps in the design world. Though it's a niche field, you'd be surprised how often you find yourself looking for a certain country or state to fill out a design.
I also had quite a bit of success contributing to stock portfolio sites, and saw the demand for vector maps, but also saw that as the saturation of contributors rose, the quality fell and they became more fragmented. Not to mention dedicated maps sites were (and still are) charging far too much for lower quality work.
What did it take to build the initial product? How long until you were ready to launch?
Free Vector Maps is built using open-source software with PHP and MySQL. The front end uses Bootstrap, so I was able to get the framework up and running fast.
The biggest challenge was creating all the maps. I found a fantastic public domain source for the data (Natural Earth Data) and an open source GIS program that I taught myself.
It took me about 2 months to create the initial library, ensuring I had all the countries in the world covered. After that, I was able to add maps as I found the time.
What strategies have you used to grow your reveue and user base?
When Free Vector Maps first launched, I submitted it to a portfolio showcase that I knew would get designers attention and that was it. Other than that, it's all been SEO and word of mouth.
Luckily, it's been well-received and covered by many well-respected newsletters and design resource blogs and keeps growing in usage every month.
Most of the income is generated via royalty-free licenses (via Stripe) for those who cannot attribute the maps in their designs, which is a common problem if you are doing work for clients.
I also make income via ads, a necessary evil to ensure AWS and server costs get covered.
While 99% of the maps are free with attribution to the site, I also have some "Premium Maps" that provide greater detail at fair prices. Not to mention royalty free "Map Bundles" at a fraction of the standard license.
What do you think your biggest advantages have been?
My biggest advantage is that I understood the market well. With years of experience in the stock image library, I knew there was a need for vector maps on the web.
I also have been designing and building websites for almost 20 years, and love creating things. This allowed me to take an idea and rapidly create a product.
SEO has always been at the heart of the project and has served me well, as I get the vast majority of visitors via organic search results. If you can get that right, it really helps.
What's your advice for aspiring indie hackers?
If you have an idea, pursue it! As long as you really enjoy what you are doing, then it's well worth it, no matter if you make money or not.
You'd be surprised how far all your ideas can go.
Where can we go to learn more?
—

Ted Grajeda , Creator of Free Vector Maps
Want to build your own business like Free Vector Maps?
You should join the Indie Hackers community! 🤗
We're a few thousand founders helping each other build profitable businesses and side projects. Come share what you're working on and get feedback from your peers.
Not ready to get started on your product yet? No problem. The community is a great place to meet people, learn, and get your feet wet. Feel free to just browse!
—

Courtland Allen , Indie Hackers founder