Combining Passive Income Dreams to Create a Viable Business
I'll just come right out and say that creating UX Power Tools was initially driven by a desire to make side income.
After much appeal by a family member to invest in rental properties, I started looking for income opportunities doing things I actually knew how to do. Design seemed… well… natural.
Today, my co-founder Jon and I do in fact have a higher mission to help UX designers become faster and more efficient with design tools — particularly Sketch. It just didn't start that way.
In our day jobs as UX designers serving startup and scale-up businesses, we've developed all kinds of efficiencies for starting new projects. Time is of the essence, and many companies we work with are on strict timelines to close funding rounds, build their MVPs (minimum viable products), and ultimately launch.
As we built out these internal efficiencies, it never occurred to us that other designers might also benefit from our methods. Once we started seriously thinking about generating passive side income (instead of the more active freelancing model), we began looking at our techniques as a means toward a sellable product.
But wait, we aren't developers… so how are we gonna sell something that isn't SaaS, or on GitHub, or React, or <some other hot new developer term>?!
So we turned to Google like everyone else to find out what we could sell.
eBooks!
Nope, nobody reads those. (Side note: People actually do read them, but we were just too lazy to write them. More on this later.)
What about UI kits?! We looked at the already-very-saturated UI kit market and realized why we never buy them. UI kits are highly stylized and damn-near impossible to customize. Holy crap, we found our calling:
A UI kit geared toward efficient, scalable, and sustainable UX design.
You see, UX designers differ from visual and graphic designers (i.e. the ones who typically construct UI kits) in one key way: We work side-by-side with developers, and though we may not like to admit it, we've learned a ton about efficiency and scale. So even though UI kits looked sexy, we felt that designers wanted something less stylized and more scalable and customizable. Like Twitter Bootstrap, but for designers.
Before finishing our inaugural kit, we posted our very first article on Medium to start building an audience. (We also tried standing outside a Starbucks trading lattes for demos of the kit, but that didn't quite work out. As they say, fail fast!)
Knowing nothing about content marketing, we just did what we thought was right and wrote a provocative article: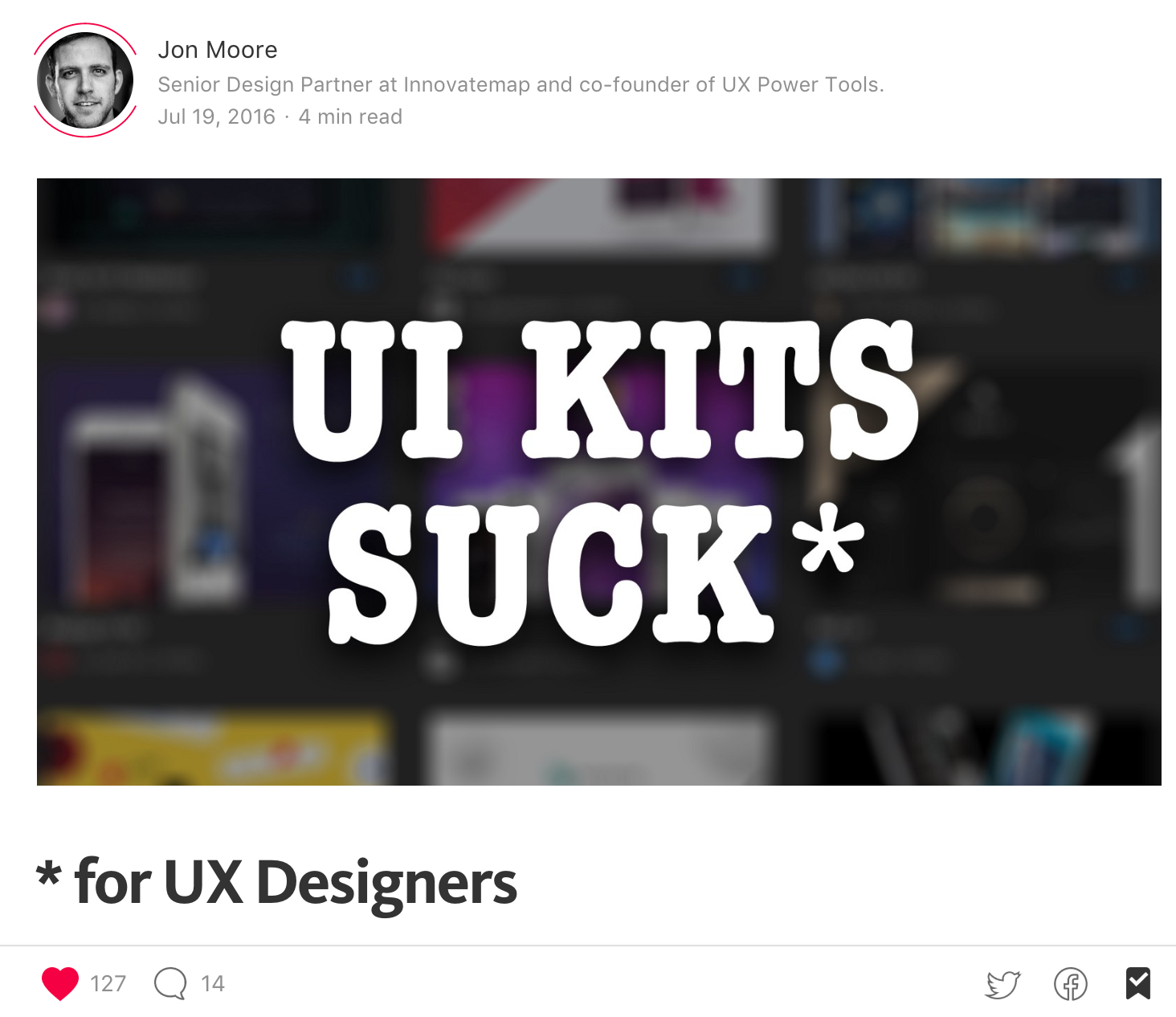 This got us a lot of followers, some haters, and was a great first go at content marketing (a term I'd never heard of about 9 months ago).
Hey, remember when I said we didn't want to write an eBook? Instead, we wrote like 1,000 minutes of Medium articles — enough for several eBooks 🙄
Here's a snapshot of our stats from the past 30 days: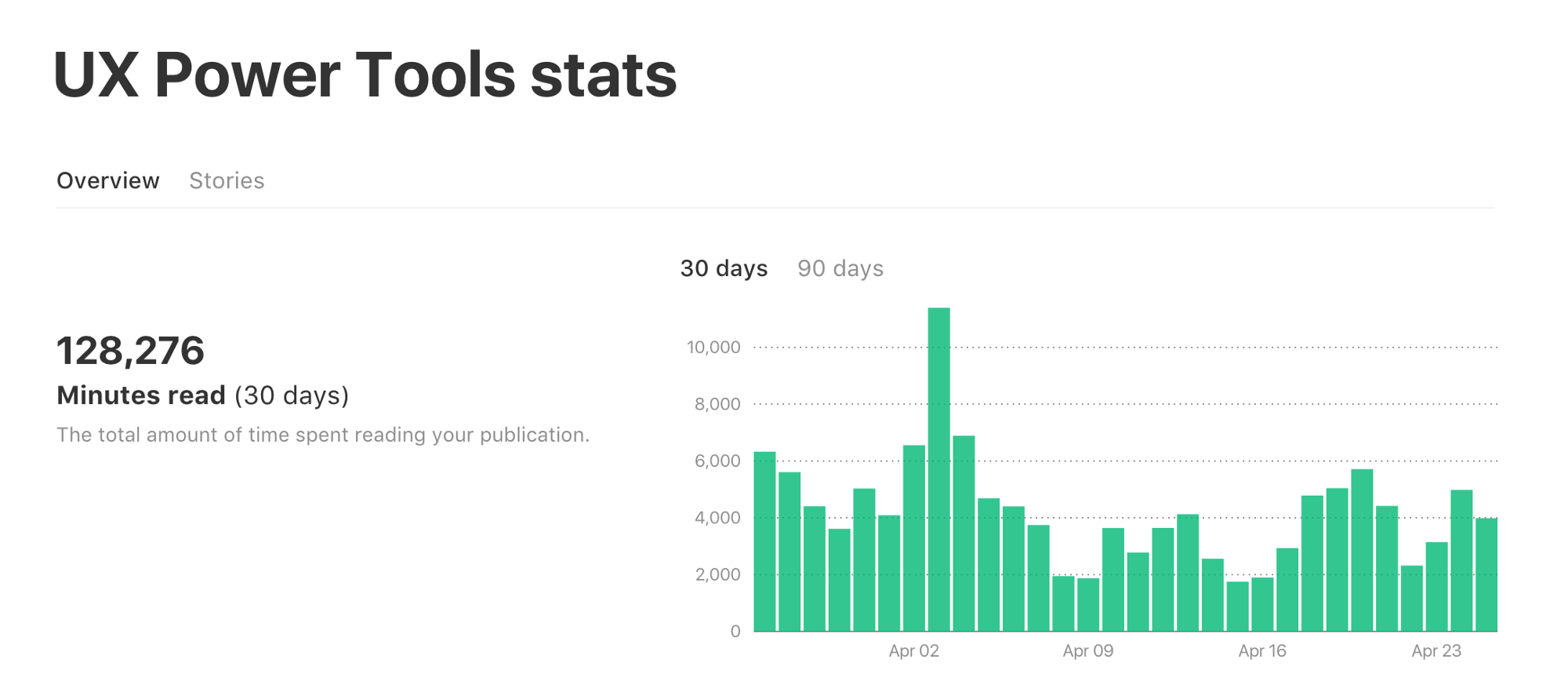 Don't these graphs always look like they're giving you the finger?
The big spikes are when articles are posted, and the little ones are when they get shared by other popular accounts. If you look at our sales, you can see similar trends:

Big spikes when we post, or when content gets broadcasted. (Note: That big spike was a new product launch that we posted across multiple channels.)
The point here is that our content directly drives our sales. We've frittered away a few dollars here and there on Twitter and Facebook ads. We've set up affiliates. But nothing has worked as immediately, consistently, and effectively as our content.
Why? Hell, I don't know. I'm a designer, not a marketer!
But I can make a guess. When we first launched the product, we learned that what was obvious to us was not obvious to others. Our way of designing had become second-nature, and given 10 minutes to rant in person, anyone listening would be drinking the Kool-Aid. Our articles just became little digital replacements of our rants.
So, where are we today?
We recently launched a mobile design system after hitting our stride in the first 8 months with our web-focused design system. We've experimented with different marketing strategies, but continue to see that simple content marketing through Medium has been the biggest contributor to our success. Even better, our writing style is fun for us, so it never feels like a chore. And people in our niche seem to dig it, too!
We'd be remiss not to mention that while income may have been our initial ambition, it never drives our decisions today. Success has grown out of personal necessity, and we're beyond thrilled to share our learnings, best practices, and efficiencies with the design community. We have a passion for teaching, and it's thrilling to watch designers of all skill levels enjoy our content and find our products useful.
Our keys to success:
Thoughtful original content, written how normal people talk, not how PhD students write
Laser focus on our key value propositions: design efficiency and scalability
To-the-point website copy (our site is nothing special!)
Simple, straightforward packaging and pricing (at the time of writing this article: two products, one bundle)
Constant interaction with our readers and users
Fast, honest, and considerate customer support
Willingness and eagerness to create and share cool stuff!
You can follow @uxpowertools on Twitter, and feel free to say hello in the comments below!
—
jon , Creator of UX Power Tools
Want to build your own business like UX Power Tools?
You should join the Indie Hackers community! 🤗
We're a few thousand founders helping each other build profitable businesses and side projects. Come share what you're working on and get feedback from your peers.
Not ready to get started on your product yet? No problem. The community is a great place to meet people, learn, and get your feet wet. Feel free to just browse!
—
Courtland Allen , Indie Hackers founder