Validating in the Field and Bootstrapping to $7,500/mo
Hello! What's your background, and what are you working on?
My name is Jesse Martinek, and I'm the Founder and CEO of Vacayrx. We're an alternative platform for vacation rental owners, managers, and guests who are seeking a more transparent and functional solution when it comes to listing and booking vacation rentals online.
The company was formed in late 2016 with an initial rollout earlier this year, and over the past three months we've grown rapidly. More than 2,100 property listings in over 30 states have been added in the first twelve months of business.
What motivated you to get started with Vacayrx?
I came up with the concept for Vacayrx while working in the vacation rental industry and picking up on a major change in users' (particularly homeowners') sentiments towards the largest listing platforms.
Due to some major acquisitions, a number of changes were made that drastically affected the everyday user, and while observing these changes firsthand I saw what I believed to be a huge opportunity to offer something better.
What went into building the initial version of Vacayrx?
The funny part about developing Vacayrx is that I really had no technical background in web development at all. I contracted out a couple services on Upwork to make sure that I had some key information that I believed would help me obtain users, and in doing so, I met a contractor who took an interest in the project.
After a couple successful projects he asked me what I was planning to do, and I told him my vision. We soon began working more and more together to a point where he became a critical component of the company and earned the role of co-founder and CTO.
We then hired a full-time developer and a small team of marketing experts in SEO/PPC, and we've been working together since.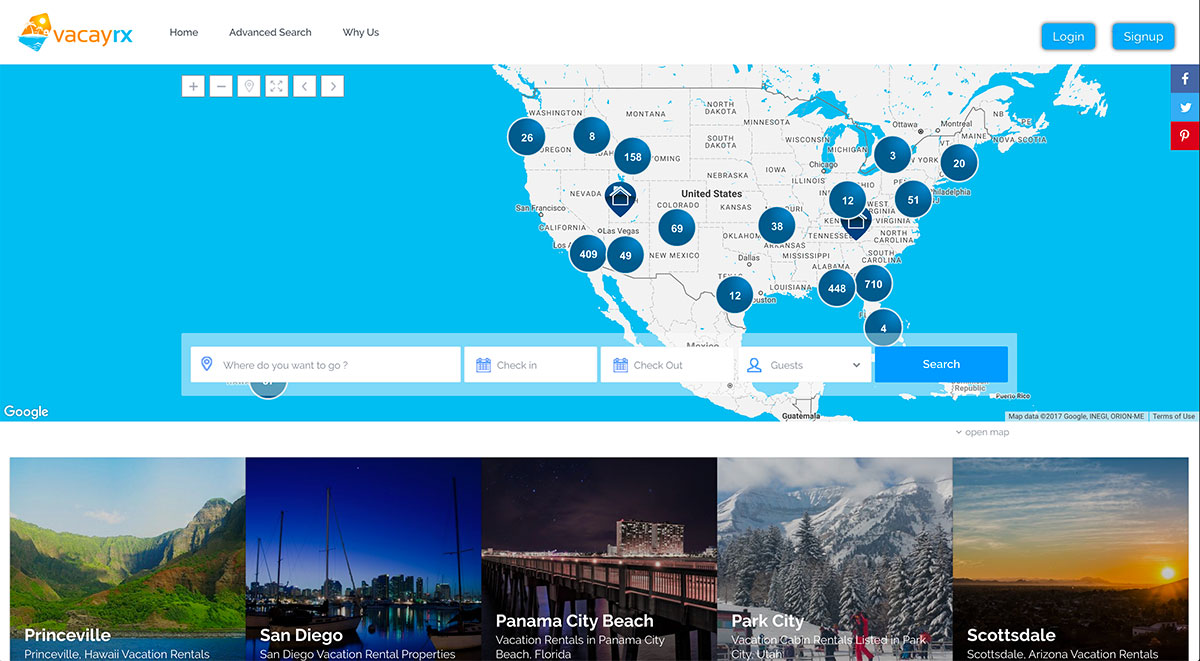 How have you attracted users and grown Vacayrx?
My background has always been in business development and sales (most recently in the vacation rental industry), and this has helped us immensely with our early growth.
The great thing about the vacation rental industry is that everyone is friendly and will typically pick up their phone if you call them, since they assume the call is a potential booking. This gives a great opportunity to introduce a service while their guard is down, and if the service catches their attention it makes for an easy conversation.
My biggest concern coming into the project was whether or not the sentiment that I had experienced previously in the industry was occurring on a micro-scale, and whether this same sentiment would be shared on an international level.
Luckily, this seems to be the case. We now have users in all parts of the US, and even some early interest for international property owners/managers.
What's your business model, and how have you grown your revenue?
We are 100% dedicated to flat, transparent pricing. Unlike our competitors who charge a percentage of the total rent to both owners/guests during each transaction, we've opted to have a flat annual membership for owners and property managers who wish to list their properties on our site.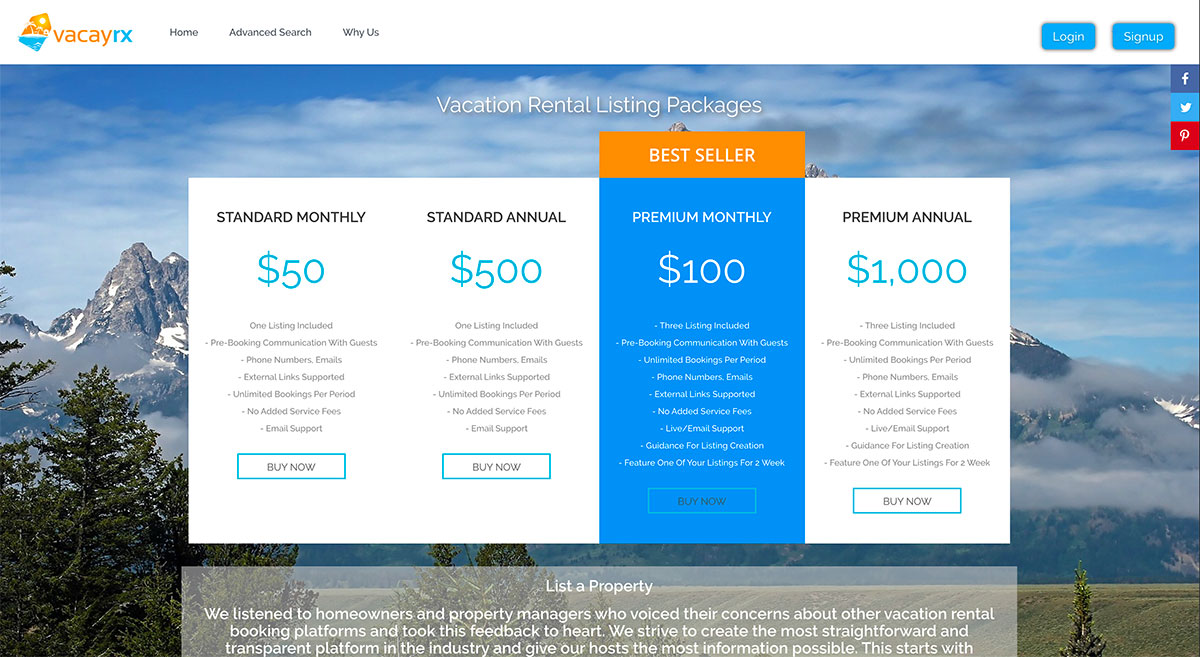 The membership starts at $500 per year, which allows these users to easily achieve a ROI after 1-2 bookings through our platform. On the guest side, guests are charged a flat-fee of $25 per booking, which offers a substantial cost savings over bookings on other platforms that often charge between 5-15% of the total rent amount.
What are your goals for the future?
Our next goal is to attract some venture capital to Vacayrx and show investors truly how large the opportunity is.
I've bootstrapped the entire project to date, which has been a huge financial strain on me, but I believe that all of the hard work, money, and resources have paid off as we are seeing a true validation from our early adopters.
On the upside we're seeing acquisitions for other companies in our industry (who are not much larger than us) in the hundreds of millions, and the industry as a whole is ballooning.
Once fundraising occurs, we hope to focus most of our time and effort on rapid brand awareness through marketing and sales, with some very exciting development projects, as well.
What are the biggest challenges you've faced and obstacles you've overcome?
I would say without question that one of the biggest challenges to date has been continuing my conviction in our idea, despite the ongoing costs and the temptation to cut corners.
I realized early on, that if I wanted to compete with companies much, much, larger than ours that we would have to come to market with not only a competitive product, but likely a superior product, and we have done everything in our power to deliver exactly that.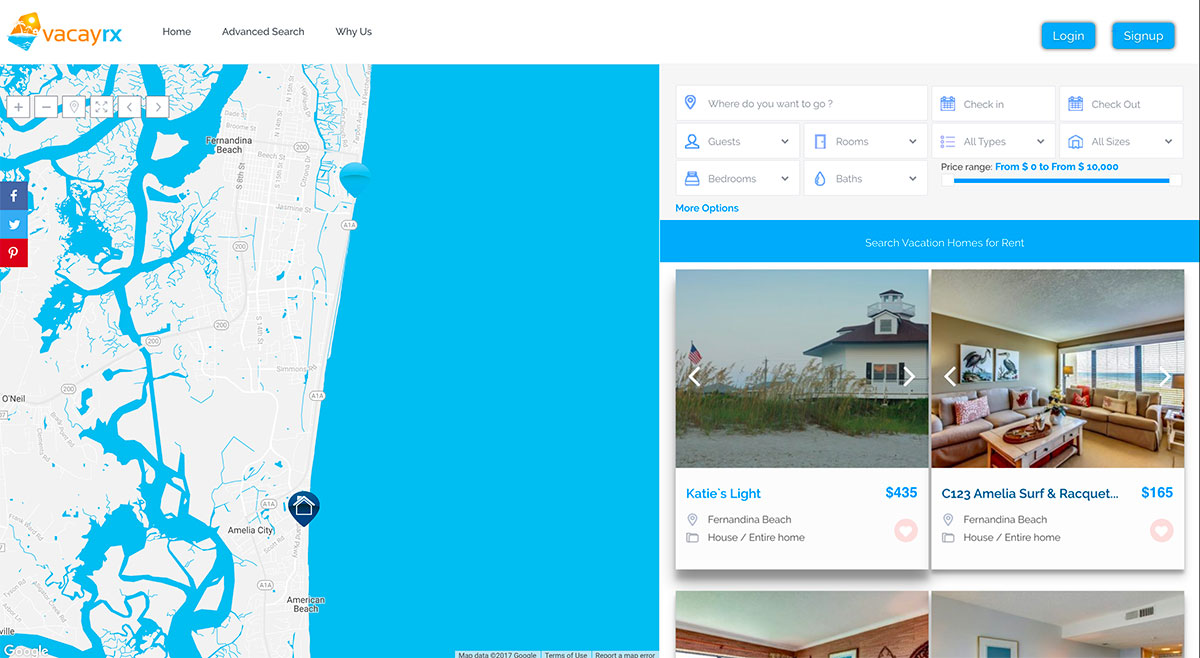 Achieving this often required challenging and expensive development, but there is no question in my mind that we made the right choices on the functionality we chose to implement.
What's your advice for indie hackers who are just starting out?
I would highly emphasize that you should put yourself through some challenging professional experiences before undertaking a project on your own.
I've always been a creative type and have been dreaming up ideas since I was 15 years old. I was confident then that I could execute a successful business, but the reality was that I needed to learn some hard lessons from watching others before truly being ready to take on a project of such magnitude.
The biggest challenge is balancing the confidence needed to succeed with the humility achieved from getting your ass kicked a couple times.
Where can we go to learn more?
Please come check us out at any of the following:
—
vacayrx , Creator of Vacayrx
Want to build your own business like Vacayrx?
You should join the Indie Hackers community! 🤗
We're a few thousand founders helping each other build profitable businesses and side projects. Come share what you're working on and get feedback from your peers.
Not ready to get started on your product yet? No problem. The community is a great place to meet people, learn, and get your feet wet. Feel free to just browse!
—
Courtland Allen , Indie Hackers founder