Working Three Jobs to Fund a Business Now Making $12,000/mo
Tell us about yourself and what you're working on.
My name is Alex, and I'm a professional marketer and journalist. My experience includes working for enterprise companies in the finance and IT security sectors, doing freelance work with ad and PR agencies, and working as an editor for an online blog about startups (vc.ru — it's the TechCrunch of Eastern Europe).
Over time I realized that everything I was doing at my job (e.g. writing copy and managing social media acounts) I could also do independently. My co-founder Dmitry agreed, so we started our business: Rockin'Robin.
At first it was just a small content marketing studio that helped local businesses with PR and content creation, but we eventually managed to get customers from all over the world. We also went back to our roots (we studied computer science in college) and began developing content marketing tools. One tool we built was our Telegram bot, @ContentRobin, which helps businesses find answers to popular marketing questions and schedule consultations with our experts.
How'd you get started with your business?
Rockin'Robin started as a freelance business in 2012. By that time I'd already had some marketing experience, and I decided to share it via a simple blog. My friend and partner Dmitry was into podcasting at the time, and he'd started his own web-radio. So we decided that I'd write copy for the company, and we'd also create new podcast for it that covered UX and usability topics.
The project was huge success! Our articles were read more than 1 million times, and the podcast shot to the top of iTunes in its category. We also realized that we had good revenue without too many expenses, so we had a proof-of-concept for our business model — content marketing subscription for companies — and we decided to scale it.
How'd you find the time and funding to build your business?
At first both of us still had jobs elsewhere. For several months, I was working 4 jobs: full-time marketer at an IT security company, part-time online startup blog editor and SMM manager, freelance copywriter for a PR agency, and the founder of my own startup. Things were okay financially. We had enough money to be selective instead of having to take on every project that arrived. But things were quite hectic, which wasn't good for our startup. Later, as we got more customers in our portfolio, we were able to focus more on Rockin'Robin.
This was a very interesting period in my life. It taught me to be organized and focused, though I'm not sure I'd ever want to go through this again. There were only 24 hours in my day, and I had to spread them very thin. First of all, I negotiated an opportunity to work from home at my full-time job so I wouldn't have to be in the office all day long. Then I decided not to do freelance copywriting anymore. That bought me time to work on our own projects that generated more money. Finally, I left my online blog editor position — but I should mention that that job gave me experience in creating content of different formats, so it was super useful.
Both Dmitry and I were proponents of a conservative step-by-step strategy. By the time our project looked like a real business, I'd already had a family (a wife and little daughter), so I couldn't have simply quit all my jobs to go all-in on our business. However, I could have a lot of jobs generating enough money to save and invest in our business development (e.g. for hiring our first employees).
How have you attracted users and grown your business?
We used several tactics to attract our first customers. First of all, we launched a blog, and the articles there were shared on Reddit and other social media.
We also relied on our old connections — for example, one of our earliest customers was financial company I'd worked at several years before. I knew lots of decision makers there, so I was able to pitch them and get a contract.
One big channel was word-of-mouth growth. We stimulated this by offering current customers good discounts if they recommended us to someone from their network, and such talks ended in new contracts for us.
Another method that worked for us was sending cold emails. We used the web to conduct research and find companies we could help with our content, and tried to pitch them via email. Most of our messages were sent in vain, but regardless this approach netted us several good customers who stayed with us for a long time.
As time passed, we eventually exhausted our normal customer acquisition channels. We needed something new, but we had no marketing budget. Our model was not interesting for investors. Our own revenue was enough to pay the team's salaries and expand, but not to pay for advertising on top of that. When you have no money, you should get creative to stay competitive.
That's why we launched a new service: content marketing research. If a company wants to understand what marketing techniques their competitor uses or how companies from the same industry perform on Reddit/Hacker News/Product Hunt/etc, they can turn to us. We have our own analytics and programmers who parse data and use it to create clear recommendations on what to do. And we can implement these recommendations for clients as well. This service gave us new stream of new leads.
Another creative channel for leads is our chatbot assistant project. We were interested and excited about all this chatbot hype, so we decided to jump on the bandwagon and create a tool that could help companies and their employees take their first steps with content marketing. We created @ContentRobin, a Telegram chatbot that could give advice on how to create awesome copy, analyze existing copy for its "readability", and schedule a consultation with content marketing experts. These experts are our employees, of course, so each request is routed to us, and we get new leads.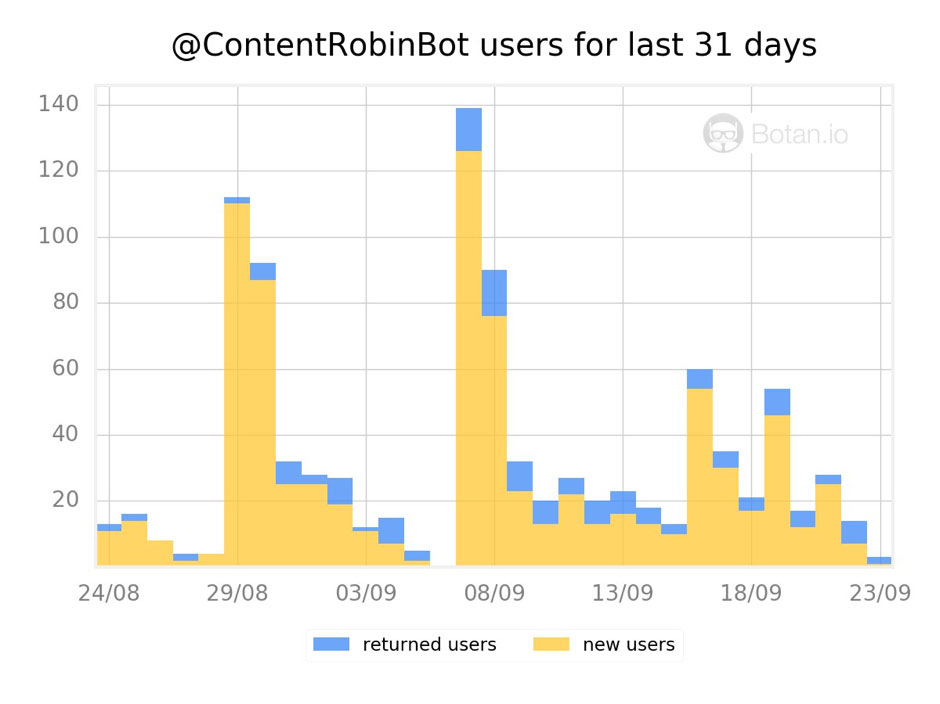 What's the story behind your revenue?
Today we make about $1000-$1500/mo per customer on average, for an overall total of almost $12k/mo. We're working on opening up US-based company where we'll try to bring aboard more US customers and grow our monthly revenue by 2-3x this year.
Our big advantage here is that we charged from the very beginning. As we mastered our services over time, opportunities appeared for upsells. For example, if a company started with blogging, then later they might decide to use PR as well. If a company is Eastern European, later it usually need to expand to English-speaking markets, which requires analysis and someone who can create localized content. (We can!)
If you had to start over, what would you do differently?
If I could do it over again, I would've started hiring earlier. Hiring really helped us spend more time on sales and less time working on routine daily tasks.
What have been your biggest advantages?
One good thing about our business model is that we do not want to build a conveyor belt that churns out boutique-style work. Instead, we spend lots of time per customer and offer a high quality service, which helps us stand out.
Also, as our production is in Eastern Europe (Moscow) where local currency is relatively cheap compared to the US dollar, so we can maintain relatively low prices for US and Western European customers. Even English-speaking team members are Moscow-based expats from the US and the UK. This really helps us to be more cost-effective.
What advice would you give to aspiring indie hackers?
Here are several things I've learned while working on our projects:
It is psychologically easier to start off while having another job and income stream.
It is hard to effectively work on different projects simultaneously, but such situations help you learn how to be more productive and effective.
If you're not based in the US/Western Europe/etc, do not think of it as a disadvantage. Instead, explore local opportunities. For example, we managed to find good professionals who cost less than they would in any developed countries. This makes our US market expansion easier.
Where can we go to learn more?
You can read our blog or check out my Quora profile and my answers there. Also, you can read about our chatbot, which has been covered on VentureBeat and on ALLTOPSTARTUPS.
And feel free to get in touch with me personally over email ([email protected]) or via the comment section below.
—

Alexander Lashkov , Creator of Rockin'Robin
Want to build your own business like Rockin'Robin?
You should join the Indie Hackers community! 🤗
We're a few thousand founders helping each other build profitable businesses and side projects. Come share what you're working on and get feedback from your peers.
Not ready to get started on your product yet? No problem. The community is a great place to meet people, learn, and get your feet wet. Feel free to just browse!
—

Courtland Allen , Indie Hackers founder