Building a Community by Capitalizing on a Growing Trend
Hello! What's your background, and what are you working on?
Hey! I'm Seth Louey. I'm the Co-Founder of BotList, an app store for bots.
I have a background in design, dabble in front-end development, and have always loved creating products. In 2016 I was nominated as Product Hunt's maker of the Year. Unfortunately, I did not receive it, but fortunately, my business partner and long time friend, Mubashar Iqbal, did. :)
Over the past two years I've been building and running BotList, my first real startup. BotList is essentially a community directory of all things that relate to bots. We focus on providing discovery, education, and growth for the bot community. So we really have two audiences, the makers and users of bots.
We have been 100% bootstrapped and cash flow positive since day one. Also, we receive over 300k page views and average 100k users each month.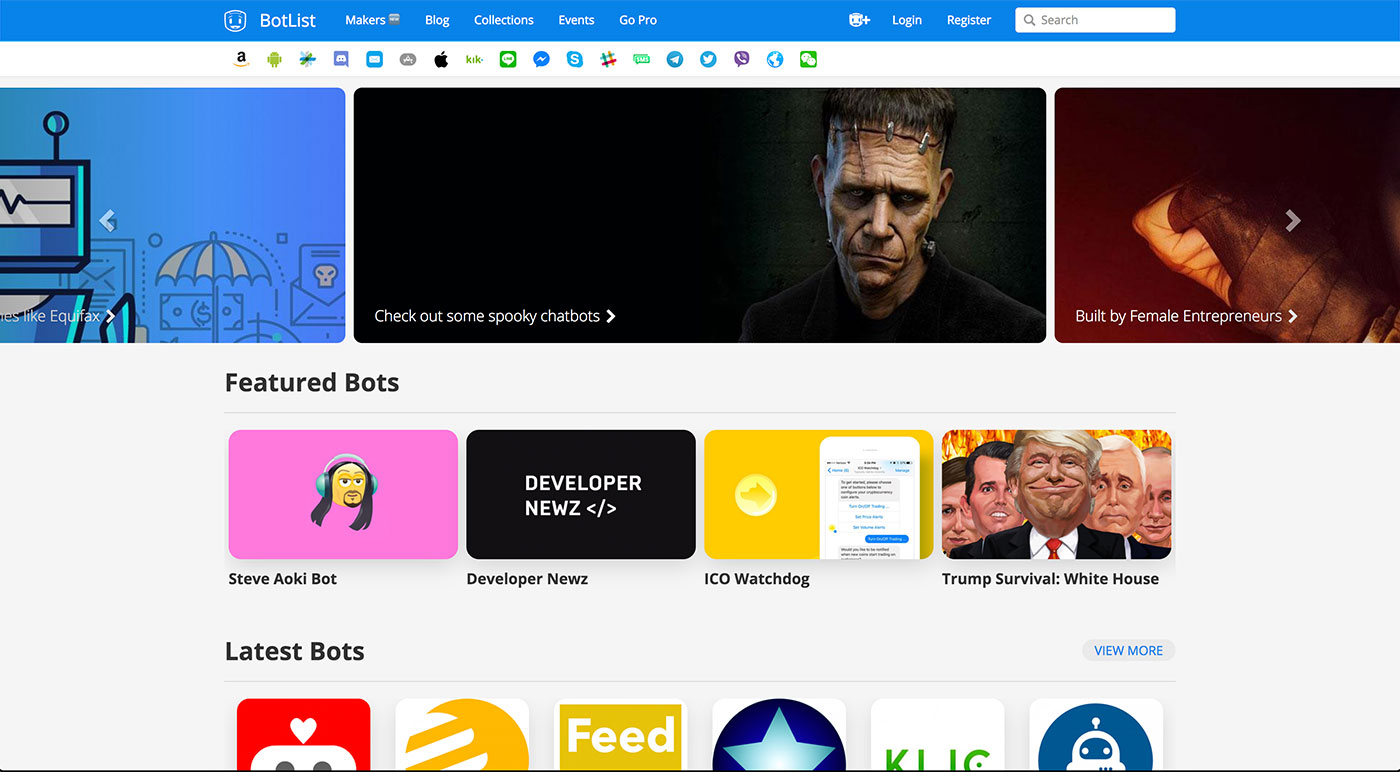 What motivated you to get started with BotList, Inc.?
Mubashar Iqbal (Mubs), Ben Tossell, and I were chatting in 2016 about how Facebook was going to really start pushing conversational applications (aka... chatbots) at F8. Along with other tech giants out there, like Amazon's Alexa or Skype bots, we knew that the platforms were going to have their own way of displaying their directories.
Since most consumers use more than four messaging channels on average, this led to issues of where people should actually search for and discover these bots. And that's how BotList was created.
Mubs, Ben, and I are really known for creating some of the fastest MVP's out there, so we didn't spend a lot of time validating the idea. We did hypothesize that if Facebook was going to put a lot of emphasis on bots and its Messenger platform, bots were going to be huge.
At the time, we were all really looking for one of our side projects to gain some momentum. The moment that we received an acquisition offer for BotList and it wasn't even live yet, I stopped working on all of our other side projects.
What went into building the initial product?
Since we were validating the idea on the fly, we wanted to spin up the MVP very quick and created BotList with the Laravel framework. Laravel is so easy to use that Mubs and myself could work on it simultaneously, while Ben was finding all of the bots for launch. It probably only took us a few weekends to get the majority of the product created. Most of the work was fine tuning everything.
Mid January of 2016 is when we really started planning the product, but the public launch on Product Hunt was April 10th, the day before F8. We launched the day before F8 so we could ride the media waves of Facebook, and it worked flawlessly.
BotList v0 was really just a homepage discovery, bot detail pages, and category sorting. Very simple and very basic. Since then, we've added Collections, Events, Advertising, User Profiles, Bot maker search, BotList Pro Memberships, and many more features.
After about a month of launch, Ben received a new position at Product Hunt and couldn't put the time into BotList, so Mubs and I continued to run it. We were running it during nights and weekends for the first year or so, and in May of 2017, I decided to go full time on the company.
Building a community has not been an easy task! We've been fortunate enough to know many makers in the community and have used some of their strategies for building startups. People like Pieter Levels, Marc Köhlbrugge, and Justin Jackson have been innovators in the space of 1-2 maker armies that crush products.
How have you attracted users and grown BotList, Inc.?
Launching BotList was pretty easy really. Facebook's F8 Conference helped us gain media attention and we received 100k users in the first 2 days thanks to the Product Hunt launch. TechCrunch, Digital Trends, VentureBeat, and other media outlets started writing about BotList. Timing couldn't have been more perfect.
The most challenging thing after a huge launch like this is keeping user attention. So, everyday for the past two years we've launched new bots on the homepage. Being consistent with bot submission approval and distribution of content has been the key for our success. This does make our bot queue huge, but we've always been about quality over quantity for the consumers.
We've also added Hooked methods into user profiles. So, as a maker of a bot, you can receive notifications about reviews or comments on your bot pages, collections, and when people follow you. Most recently, we added a way for users to list themselves as "for hire" and searchable through the site.
Since Mubs had a hand in helping build Quuu, we use them for distribution of blog content. Quuu has helped us tremendously! Contributors would write articles on our site and we would promote them with Quuu. Actually, last week we had a contributor tell us that they've' had more engagement on BotList than Forbes and IBM articles. It's been our secret weapon for growth and helping bot companies grow.
We also hired an SEO expert a few months ago to really get that Google juice to drive traffic, and you can see from our numbers that it's paid off.
With all of the successes, we've had 10 times more failures. The biggest failure that we've had would be not moving fast enough. It's definitely challenging to run a bootstrapped company when competitors are running with VC-backed capital, but we've done pretty well for only one person being full time on BotList. ;)
We have about 10k registered users
18 different platforms (Facebook, Slack, Kik, etc.)
4.3k Messenger chatbot users
3.6k Newsletter subs
And here's a look at our traffic in 2017.
| | |
| --- | --- |
| Month | Pageviews |
| January | 233199 |
| February | 211671 |
| March | 226500 |
| April | 226168 |
| May | 276301 |
| June | 289890 |
| July | 306465 |
| August | 312827 |
| September | 268397 |
Note: in September we adjusted our URLs for better Google SEO rankings, resulting in a drop in traffic.
What's your business model, and how have you grown your revenue?
We currently have two different ways of monetizing right now: advertisement and catering towards bot makers/companies. Our oldest monetization strategy was having people "fast track" their submission. It's helped a bit, but isn't sustainable. We quickly realized that advertising was the way to go, but it's super time consuming.
One thing that we noticed with such a newish industry was that a majority of the bots submitted aren't funded organizations. So, advertising is a bit pricy for a side project. This led us to change our advertising structure and implement a growth hack. So, moving forward, you can pay for advertisement or you can earn ad spots.
By giving users incentives to share or mention BotList in articles, posts, podcasts, etc., we receive traffic and they will receive points towards an ad spot. This helps us drastically and also helps the bot community by getting more conversations around the topic.
BotList also provides unique features for Pro memberships. By paying for a Pro membership, makers receive advertising perks, bot verification, deals, can get listed as "for hire", and sell or buy chatbots in our new Marketplace. We are in the service of helping bots grow and are continuing to create more features to assist in product growth.
Right now, we are making very early "startup revenue" — that is, not a whole lot — but our passive revenue streams are growing. We still rely heavily on advertising and I've had to do some bot consulting on the side. The best thing about running BotList is that I get to see what bots work and don't work. ;)
Some advice that I've learned would be to always focus on features that will, first and foremost, bring in revenue. Once you have revenue, you can focus on polishing the product to a whole new level. Also, focus on providing value. If you provide value, the money will come.
$9.99 Pro subscription (35 right now)
Advertising tier 1: $5,000 (1 each month)
Advertising tier 2: $2,000
Advertising tier 3: $500 (about 2-3 per month)
BotJobs posting: $100 (this has slowed down a bunch)
Fast track submission: $49 (maybe 5-10 per month)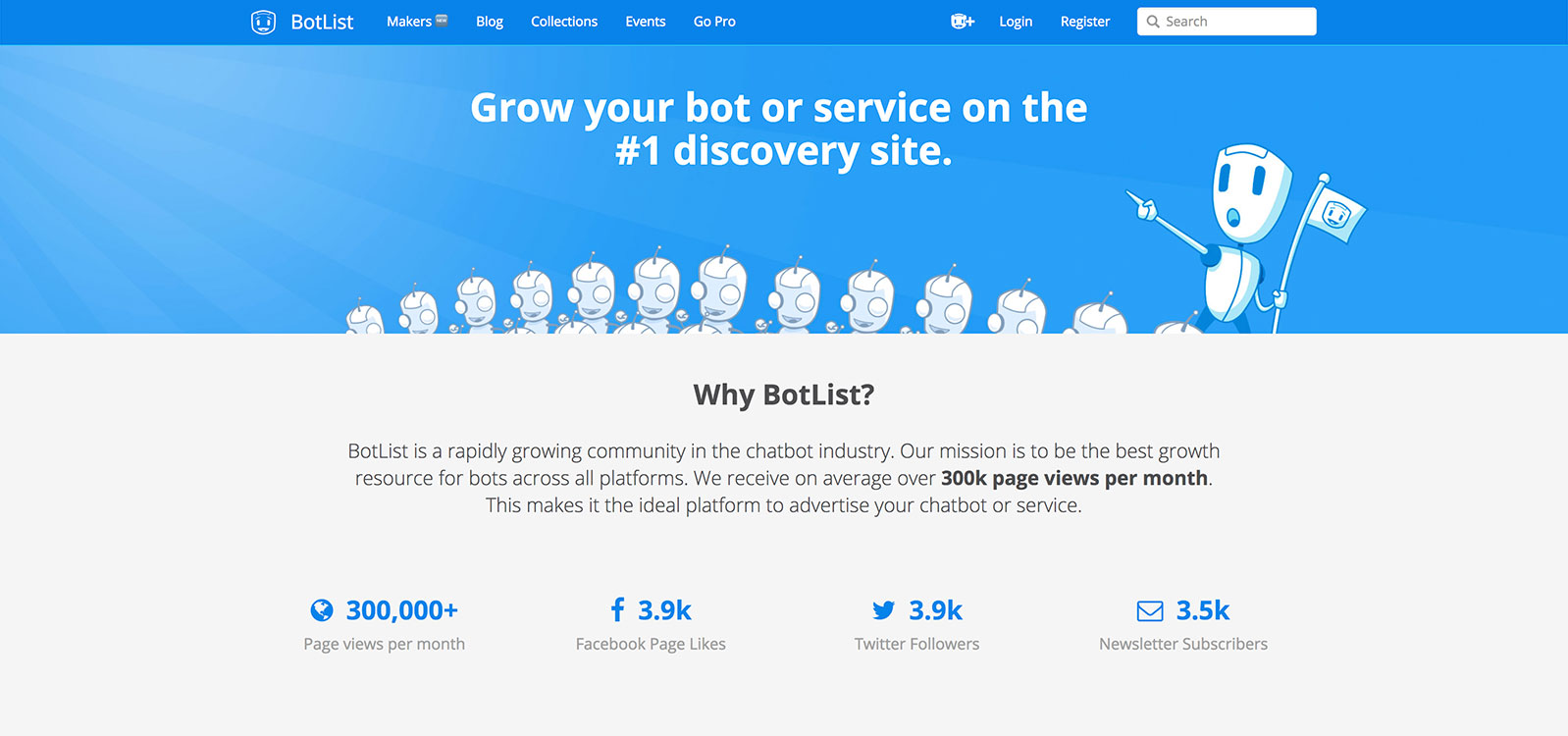 What are your goals for the future?
My current goal is to get 1k Pro members signed up. It can be done. I hope that having people list themselves as "for hire" and providing more value for makers will help us hit that goal shortly.
We also want to hit 1M page views per month and get more solid partnerships. We are looking to be the App Annie of bots and provide valuable resources to propel the bot industry forward.
What are the biggest challenges you've faced and obstacles you've overcome?
One thing that most people don't really know is that we had to deal with some legal issues for about a year. We didn't know if one day all of our hard work was going to vanish. So, for about eight months, we never made any progress on the site. We simply maintained the content. Essentially, we lost a year's worth of product development. It was also mentally tough.
Another huge challenge is running a community site while being bootstrapped. Eventually we will get to the point of hiring more management assistance, which will allow us to focus more on product development.
If you're going to get into building a community site like BotList, definitely figure out a monetization strategy first.
Have you found anything particularly helpful or advantageous?
Being involved in a solid maker community has definitely been an advantage. From feedback to finding help, a good community helps drive whatever you're building.
I've also jumped into a bunch of Facebook groups like "Staking Growth" by Justin Wu. They've helped me keep up with techniques and outside resources to advance my marketing, growth hacking, and content strategies — ultimately supporting BotList's growth. Remember, only 20% of any product is actually making it. The other 80% is marketing. :)
Another thing: create a Facebook bot! It helps with distributing your content. Our Messenger bot sends out daily broadcasts with the newest bots and blog content. It's one fewer thing I have to worry about.
What's your advice for indie hackers who are just starting out?
Get in the trenches! Plain and simple. No one is going to do anything for you, and if you want to achieve anything, get your hands dirty. So many people think that just creating a product is going to be the solution to everyone's problems and the money will flow in. It takes a long time to achieve greatness.
It's taking us a long time to get where we are at with BotList. On many occasions I've needed PHP help, for instance, and Mubs was too busy. So I had to learn a bit about PHP. If you are determined, you can do anything!
Also, join a bunch of communities and groups. People are willing to help with advice or feedback. Just participate.
Where can we go to learn more?
You can check out BotList at botlist.co. Or if you would like to check out how bots are changing the world and how to get traction for your bots, check out our blog. We are also on all of the socials, Twitter, Facebook, etc.
But if you really want to help us out, check out BotList Pro, and let us know what you think.
—

Seth Louey , Creator of BotList, Inc.
Want to build your own business like BotList, Inc.?
You should join the Indie Hackers community! 🤗
We're a few thousand founders helping each other build profitable businesses and side projects. Come share what you're working on and get feedback from your peers.
Not ready to get started on your product yet? No problem. The community is a great place to meet people, learn, and get your feet wet. Feel free to just browse!
—

Courtland Allen , Indie Hackers founder