How I Bootstrapped a Company to 50k/mo Within the First Year
Hello! What's your background, and what are you working on?
Hey Indie Hackers, I'm Mark. I've been building all sorts of online projects since I was a kid.
Currently I'm the CEO and Founder of FirstBase. We have made it easier than ever for foreign startups to set up a company and bank account in the US.
FirstBase is a company dedicated to breaking international barriers and driving opportunity for business owners. We offer tech entrepreneurs a way to quickly and easily break into the US market.
Our MRR is $50K at this point. Since our launch we've grown >20% each month.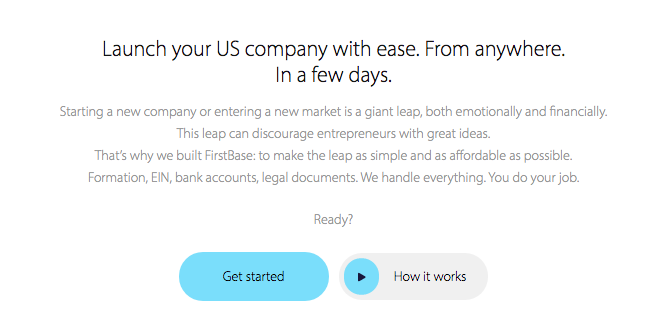 What motivated you to get started with FirstBase.io?
I started getting into tech when I was in high school. A skateboard friend recommended the book Zero to One. I then spent the whole year reading about startups, founders, and business models.
I began to realize that the startup opportunity wasn't equally distributed around the world, and I also knew how hard it was for some founders to accept payments online when running their business. So I started FirstBase with the idea to make it easier for founders from all over the world to open a company in the US.
Our company helps technology businesses get to the next level by setting up a company in the US. It gives them access to a giant market with access to venture capital and a great startup ecosystem. It's also relatively easy to run a US company compared to other countries.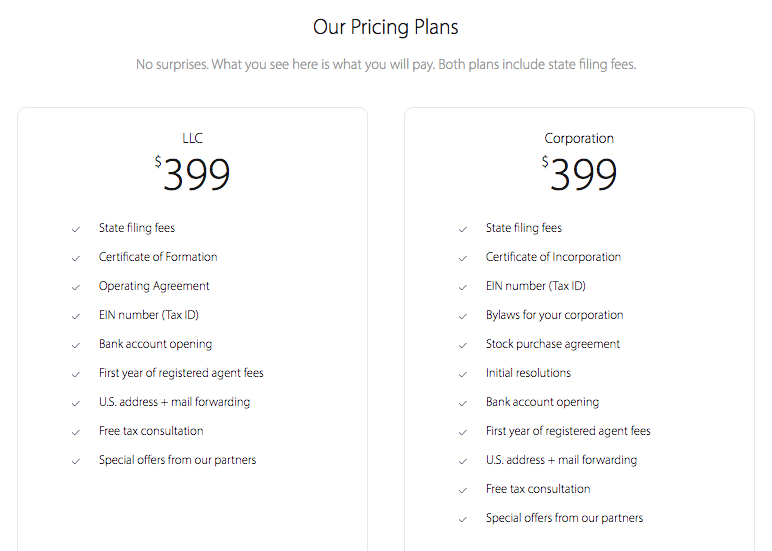 What went into building the initial product?
We bootstrapped FirstBase from zero with no seed funding whatsoever. I stopped working on all of my other projects for a few months to focus on building FirstBase. I hired a design person to help create a concept, brought on some dev people (my friends actually), focused on building partnerships and our first ad campaigns. It took me about four months to get this all done.
I worked on everything myself for about a month after the launch. During that time I learned how to do sales, marketing, and partnerships. When FirstBase started making enough to pay a salary for one person (not me), I went for it and hired a customer success manager. It was still a mess, but at least I had some time to work on other things: new features, paid ads, marketing, and more.
As our revenue continues to grow we are able to hire talented people who enjoy building new features and experiences.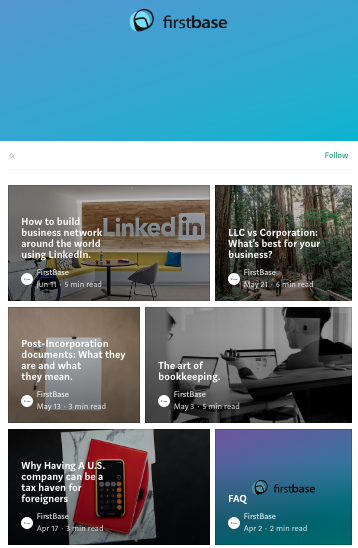 What's your business model?
Our one-time fee includes all state filing fees, company formation, EIN, Post-Incorporation documents, the first year of registered agent fees, a business bank account opened with Mercury, one free tax consultation, several special offers and discounts from our partners, and lifetime support.
We are working hard to introduce new features next month.
What are your goals for the future?
We are focused on maximizing our recent momentum and building partnerships with great companies.
What is the biggest challenge you've faced?
Managing people is hard. In fact, the most talented people are the toughest to manage. It can be quite challenging to find the right approach and there's no one-size-fits-all solution. When I'm facing a management challenge, I reach out to someone more experienced. More often than not they are willing to help
Have you found anything particularly helpful or advantageous?
I assign themes for each day of the entire week, which I find to be very helpful in dealing with the complexity of running a startup.
What's your advice for indie hackers who are just starting out?
Hire early. Although it may sound like contradictory advice to Indie Hackers, I truly believe that the best work is made in a collaborative environment.
Where can we go to learn more?
I love chatting with other founders. Feel free to send me a line at [email protected].
—

Mark Milastsivy , Founder of FirstBase.io
Want to build your own business like FirstBase.io?
You should join the Indie Hackers community! 🤗
We're a few thousand founders helping each other build profitable businesses and side projects. Come share what you're working on and get feedback from your peers.
Not ready to get started on your product yet? No problem. The community is a great place to meet people, learn, and get your feet wet. Feel free to just browse!
—

Courtland Allen , Indie Hackers founder