How Sharing Helpful Knowledge Helped Me Grow to $2,500/month
Hello! What's your background, and what are you working on?
Hi, my name is Tim Leland. I graduated with a computer science degree in 2010, and I've been working as a software developer for the past 7 years. I also build side projects in my free time.
Weather Extension is a browser extension (Chrome|Firefox|Opera) I created to satisfy my own desire for a quick way to check the forecast right in my browser.
The extension has over 133,000 users all around the world, and it's been translated into 12 languages.
Currently, I'm making over $2,500 a month, and average almost 2,000 daily installs. I hope to grow the monthly revenue and hit 200,000 users in the next few months.
What motivated you to get started with Weather Extension?
Back in July of 2015, I came up with the idea to create a simple weather extension for Chrome. Other weather sites frustrated me with ads and other annoyances. I knew I could create a better solution. I hoped others would like it, but I really made it for myself. I had no plans to make money from the extension.
I wrote the original version of Weather in a couple of nights, and released it to the Chrome Store in July of 2015. The extension was simple and consisted of HTML, CSS, and JavaScript. I used a free DarkSky account for the weather data. It included 1,000 free daily requests, which I never thought I would hit.
Over time I've listened to my reviewers and to the feedback of my users and made improvements to the extension. I've always tried to stay true to what I originally set out to create. I worked on Weather at night and on weekends whenever I had free time.
Eventually, I surpassed the threshold of 1,000 free API calls and had to figure out a way to make some money. I decided to rewrite Weather from scratch to add new features for a Pro version.
How have you attracted users and grown Weather Extension?
At first, I shared Weather with my friends and family and on my blog. I had around 150 users when I had my first big break.
I was fortunate to have previously developed a relationship with a writer for Lifehacker while getting a blog post featured. I was able to get him to write about my extension on Lifehacker. This article helped me to gain 10,000 users in a week! To this day, this article continues to bring in hundreds of installs.
My most recent strategy to attract users has been to give away free pro upgrades for anyone who shares a link to my install page. This has been very successful, and my users appreciate it. I decided this would be cheaper than paying for ads on Facebook or Twitter.
Other strategies I've used to attract users:
partnered with other extensions
posted on Hacker News and ProductHunt
gotten featured on LaravelNews
created a demo video
used Buffer to handle my social media accounts; they make it easy to set and forget
For some additional tips, check out my post on marketing browser extensions.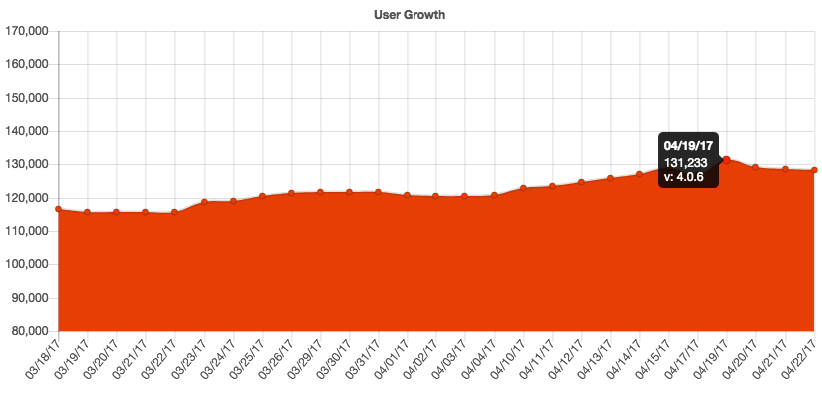 What's your business model, and how have you grown your revenue?
I started with donations using PayPal, and was quite surprised with how many people are willing to donate to free extensions. In the early days, this motivated me to continue working on the extension.
Currently, my business model is simple. I charge $2 for a pro upgrade that unlocks all of the features. I started with Stripe, but eventually added a Paypal button to give users different options.
As an experiment, back in December of 2016, I decided to add Google Adsense to my blog. At first, I was not confident it would bring in very much revenue. To my surprise I made around $9 on the first day. I figured this would fund my daily coffee habit.
I continued to experiment with ad placements. By January 2017 I knew I was onto something. I made over $100 for several days running, and there were even days where I got up to $160. The stats were clear that the majority of my Adsense revenue came from the extension's introduction page.
To sum it up, the majority of my revenue comes from Adsense. My monthly expenses are around $100. I have to pay DarkSky for access to their API, and I pay DigitalOcean for server costs.
What are your goals for the future, and how do you plan to accomplish them?
My goals for 2017 are to continue growing traffic to my blog, get over 200,000 active users for Weather, and increase monthly revenue.
I've also been trying to recreate the success of Weather by creating other extensions. Currently, I have a step counter and link saving extension that I'm trying to grow.
I plan to accomplish these goals by blogging, expanding my social media accounts, and telling everyone I can about what I'm working on.
What are the biggest challenges you've faced?
The biggest challenge I've faced so far is scaling servers. The extension has to constantly hit my server to keep the temperature icon up-to-date. As the extension has grown, so have the number of requests. I believe I've solved the scaling issue by setting up a DigitalOcean load balancer and adding additional servers.
Scaling is a challenge most applications face. You want to keep your cost low and your app running smoothly. I'm now using NewRelic to monitor the performance of my servers. This way, I'll hopefully get a warning when I need to add additional servers.
One thing I'd do differently if I started over is to monitor server performance. Back in February 2017, I lost thousands of users when my servers were being overloaded. It is always better to have too much hardware than too little.
What were your biggest advantages? Was anything particularly helpful?
The biggest advantage I had in helping Weather grow is that I started blogging towards the end of 2014. I can't stress how important it is to build an online presence through blogging and other social media platforms.

Blog traffic from December 2014 to April 2017.
It takes time and effort, but consistency is key. Everyone starts with zero followers. It's those who are consistent that win. It may look like luck from the outside, but for every "lucky" moment there are 100 "unlucky" moments. I believe you have to put in the work to create your own luck.
What's your advice for indie hackers who are just starting out?
Start a blog with a goal of helping others with the knowledge you already have. Seriously: start today.
Create daily, and share your experience. Be persistent, and don't expect thousands of users overnight. If it's something you believe in, stay with it and don't give up. Learn from others, but experiment to find out what works for you. Listen to podcasts and read about other founders on IndieHackers.
Where can we go to learn more?
You can check out my blog at TimLeland.com and follow me on Twitter (@tim_leland). I've also built a tool to track chrome extensions.
I would love to hear your thoughts on how I can continue to grow Weather. Feel free to ask my any questions below.
—
Tim , Creator of Weather Extension
Want to build your own business like Weather Extension?
You should join the Indie Hackers community! 🤗
We're a few thousand founders helping each other build profitable businesses and side projects. Come share what you're working on and get feedback from your peers.
Not ready to get started on your product yet? No problem. The community is a great place to meet people, learn, and get your feet wet. Feel free to just browse!
—
Courtland Allen , Indie Hackers founder