Growing the domain rating and increasing search positions is a burning and painful question for many businesses. Ouch!🤕
Up until recently, it had been a touchy subject for us, too.
We turned for help to a few SEO agencies and individual SEO specialists so that they'd grow our search positions. However, we ended up only losing the search positions results we had achieved before🤷‍♀️.
So, with nothing left to lose, one day, we decided to change our approach.
Taking the risk paid off! In less than 6 months, we were already enjoying +20 points to DR with zero budget on paid links🚀.
Here's our domain rate at the beginning of our journey in May (this is a screenshot from Ahrefs that I used to track progress):

Here's what I got at the end of the year: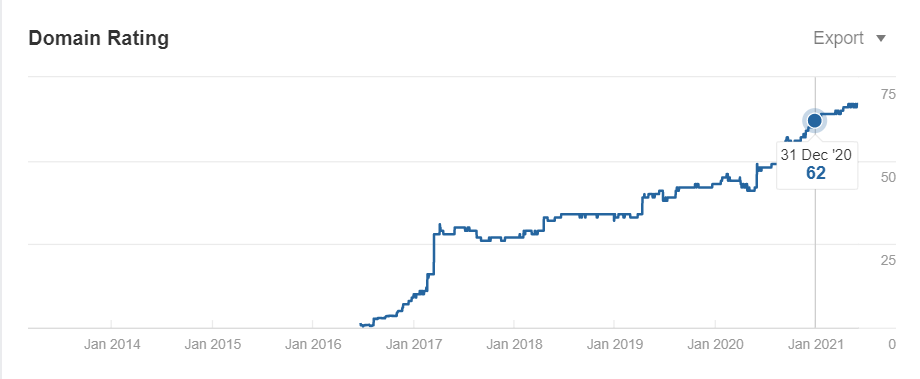 We also saw a few other favourable results that I'm happy to tell you about.
✔️An increase in keywords numbers in positions 1 - 3 for the US: from 50 to 156.
✔️An increase of organic traffic in our target location, the US. It grew from 1,000 in May 2020 to 6,000 in December of the same year.
✔️We scored first position for our main target keyword.
It's not a secret. The main factor of DR growth is the number of quality and high-authority referring links that a website has.
My goal was to get at least 30 backlinks per month.
In the beginning, I had a lot of doubts regarding the attainability of this task.
But you know what they say, the best blaze brightest when circumstances are at their worst.
So, I just braced myself and started the journey. And it turned out to be just fine, there even was a month when I got 51 backlinks😅.
The strategies that I used to get backlinks and increase the domain rating of my website: both good and not so good🤷
👉A quick SaaS link exchange - it helped to quickly increase DR for the first month by 7 points.
👉Expert comments on media and brand blogs. Helped us to gain links from media outlets like Wordsteam (domain rating 90), CEOBlogNation (domain rating 71), GoodFirms (domain rating 83).
👉Outreach strategy for getting backlinks. The strategy that turned out to be the least effective for us and didn't generate as much positive change as expected
👉Guest Posting. Our guest posts appeared on G2, TheNextWeb, Sales Hacker, Crunchbase, etc.
---
I understand that this short squeeze is not enough to create an action plan for you to grow your DR.
I placed the full story with all the pros and cons, challenges, and templates for every strategy here👇👇👇
https://nethunt.com/blog/how-we-increased-website-domain-rating/
🙌P.S. I'll answer all your questions about our process of DR growth under this post, so feel free to ask