1. Quality In-depth Content
Here's a fact, Google loves in-depth content
The more you talk about your topic and cover all the aspects of it, the better it is.
Jot down all the possible aspects of your topic in a doc and try to write down everything you could in the blog post.
The goal is to give your readers such value that they will stick with your website,
In turn, reducing the bounce rate and coming back to your site.
2. Satisfy Search Intent
Think about this.
Why do people search on Google? Because they get what they want when from Google.
Meaning, the more aligned your content is with the search term the better it is.
Example: If someone searches for "marketing templates",
they are probably looking for a file that can be downloaded and copied so that they can replicate it.
So if you don't have that within your blog post, you will have a hard time ranking on Google.
Here's what you can do to master search intent:
• Search the term you are trying to focus on, on Google.
• Then check the top 15 search results and see what they have. Check what type of content they offer.
• If the majority of the SERP is offering the same kind of thing, you should probably do the same. Because of the search intent.
3. Authority Links

Links are signals for Google.
If a prominent site links to your page,
it's a sign for Google to help rank your page better on SERP.
And here point no 1. Quality content matters a lot.
If your content is high-quality, unique, and brings a fresh perspective,
people will automatically link to your page without you even asking for it.
That's the power of Quality content.
4. Good Page Experience
Page experience is an official ranking signal on Google.
Here's a screenshot from Google's own official documentation: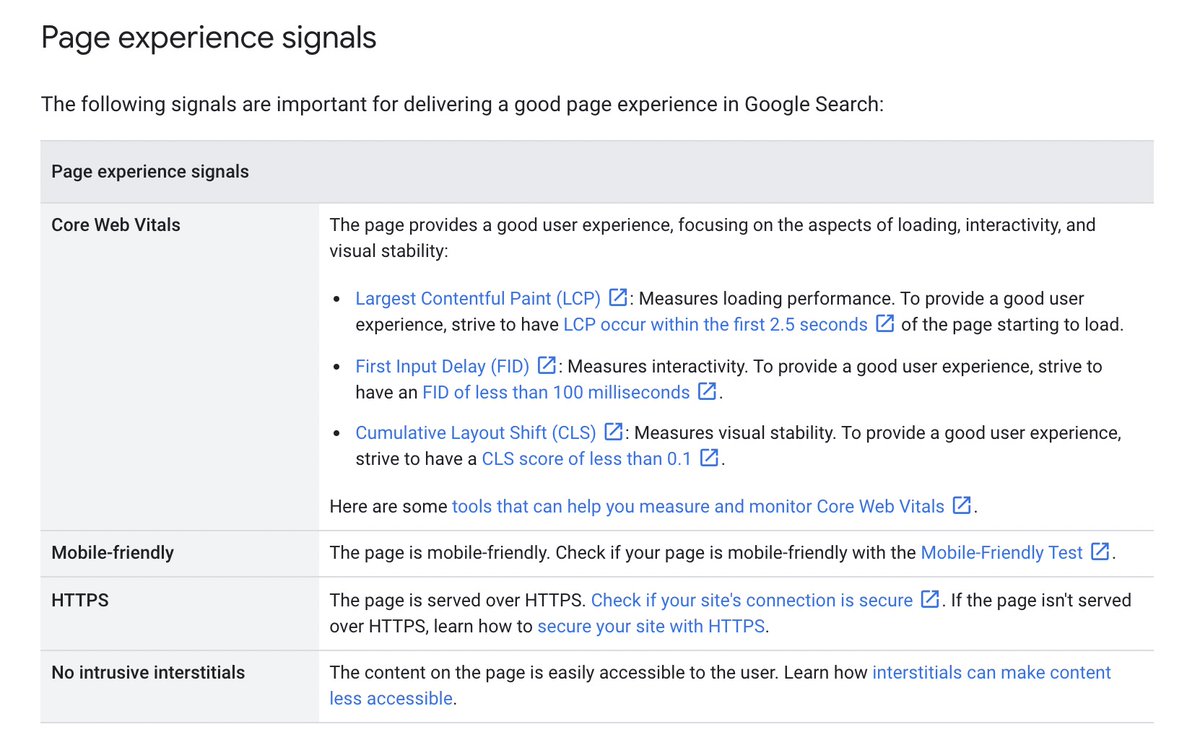 No matter what, your web page should not compromise with the experience you are offering to your visitors.
• Good page speed.
• Mobile friendly-page
• HTTPS certificate
• Focus on Core Web Vitals
...would help improve your page's experience overall.
Don't forget to check on Google Page Speed Insights for a better understanding of your page's experience.
---
Mentioned above are only 4 important factors in SEO.
There are probably more than 200+ ranking factors that can influence rankings.
Let me know what type of content would you like to have. Happy to share my insights.
Last week I published SaaS SEO Guide where I have covered SEO strategies that will help anyone get their 1st customer from Google. 131 pages of actionable material.
Btw, if you Quote Retweet my 1st tweet here, I am giving away this guide for free to 1 random person.