Hey guys. I've analyzed around 3400 tech/marketing articles from last week to identify the top 3 opportunities you can take advantage of to get more paying users. Here they are:
1. How these companies took advantage of the Facebook outage
Have you heard about newshacking? It's aligning your company to a current event that's on everybody's mind to generate attention. Two weeks ago, that event was the Facebook outage.
Newsjacking in practice: These companies did newshacking for the 6-hour Facebook outage that happened on October 4th with email marketing. While the social network was down, they sent emails with subject lines like:
Instagram May Be Down, but Our Holiday Arrivals Are Up
Instagram is down, so we have a SALE!
Facebook and Instagram relief is here!
Newsjacking works: These emails had above-average open rates because they were aboutsomething that was on everyone's mind.
The opportunity: There are major news happening around the world all the time. There are probably major news happening once in a while in your industry as well.
Take advantage of these news events and connect them to your product like these companies did. Write an email with a relevant subject line. Run an ad with a newsjacking angle (eg: if you're a SaaS providing uptime monitoring, you could run ads on Twitter such as: "Facebook was down. Don't allow that to happen to your website").
You could insert a newsjacking angle for almost every acquisition channel with a little bit of creativity.
2. Buy-now-pay-later (or paying in installments) is eventually coming to SaaS
Buy-now-pay-later (BNPL) is dominating e-commerce. According to a report published on Yahoo Finance, 30% of people have taken a buy-now-pay-later loan and 60% think they'll try it in the future.
What is BNPL: Buy-now-pay-later is a fancy term for paying in installments. Let's say someone arrives to your website and wants to buy something for $100. As long as your site is integrated with a BNPL provider, the user can pay the BNPL provider directly for the purchase. The BNPL provider then sends you the $100 while it collects payments from the user in installments without any interest.
Industry Leaders: Klarna, Afterpay and Affirm are seen as the top BNPL players in the e-ommerce space. And they're really, really big. Affirm has partered up with Amazon and Amazon will soon start offering a BNPL option via checkout. Millenials and Gen Z are addicted to Klarna. Last but not least, Square has acquired Afterpay for $29B (yes, that's a billion with a B).
Buy-now-pay-later is growing beyond e-commerce. This company, for example, recently got funding to bring buy-now-pay-later to in-person services. It's a matter of time before BNPL becomes a mainstream and generally accepted way to pay for anything (including digital services like SaaS).
**The opportunity: ** Have you considered adding a buy-now-pay-later option for more expensive (or annual) plans? Your options for doing this may be limited for now (see Stripe and Paypal documentation on this), but expect this to change soon. BNPL is becoming an "acceptable" way to pay and e-commerce is leading the way. It's a matter of time before things spill to SaaS and digital products as well.
Want to get more cool insights like these each week? Subscribe below:
3. Google's search results to include more and more short videos. Here's how to take advantage of this
SEO is hard. It also takes time. So it's worth noticing when there's a new content format that's getting traction in search results.
The background: A few weeks ago, The Information reported that Google is quietly negotiating with Instagram and TikTok to include their videos in search results.
And now it seems the negotiations are paying off. Broodie Clark, an SEO consultant, reported on Twitter that Google is testing a "Short Videos" carousel for their desktop search results: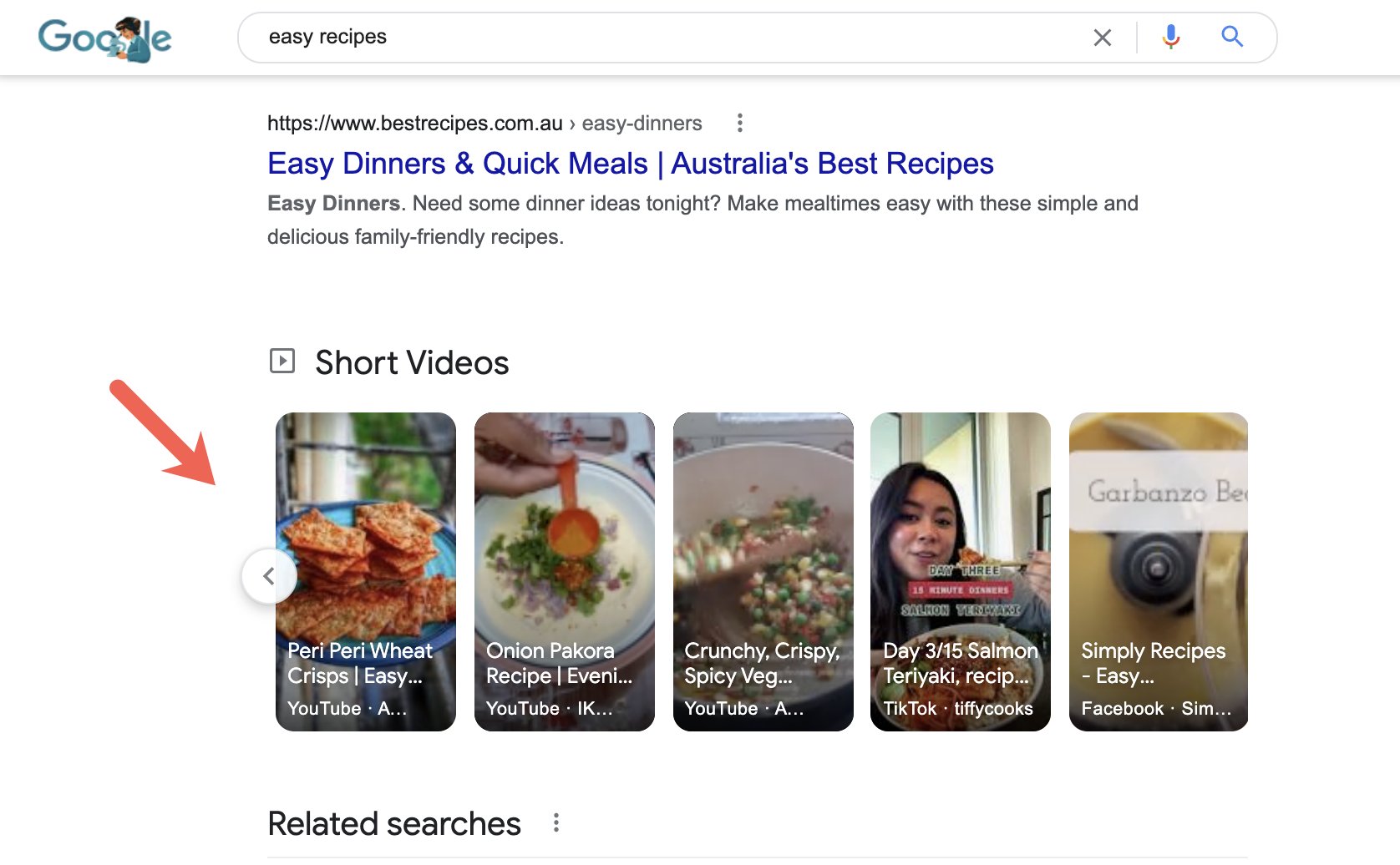 The opportunity: Are there any search results in your niche for which short videos would be a good fit? The query for which Google was testing short videos for was "easy recipes". You can easily see how short videos would fit here.
It looks like Google is going in the direction of adding more and more short videos to its search results where it makes sense, so getting prepared might be a good idea.
If you have a SaaS for teams, for example, one relevant keyword for a short video could be "how to import slack into teams". Can you create a short (max 1 minute video) on that?