Hi founders/makers,
Most founders struggle with how to acquire their first 100 beta sign-ups for a new idea. I've done it for 2 products in the last few months (one has 2200+ beta sign-ups and the other has 950+) without even launching on ProductHunt or HackerNews.
Here's how I did it:
Start with a waitlist 🔐
A lot of founders make the mistake of directly unveiling their product to public w/o creating any buzz around the launch Never open to a vague general audience. Set up a waitlist & let people opt-in so you have a focused audience.
Build a viral loop to Twitter 🐦
After people sign up on your waitlist, don't give instant access. Give them a way to share their excitement on Twitter and bring friends to be bumped up to "priority access" to the beta. This step is admittedly high friction but it will clearly show you who's really serious among your audience.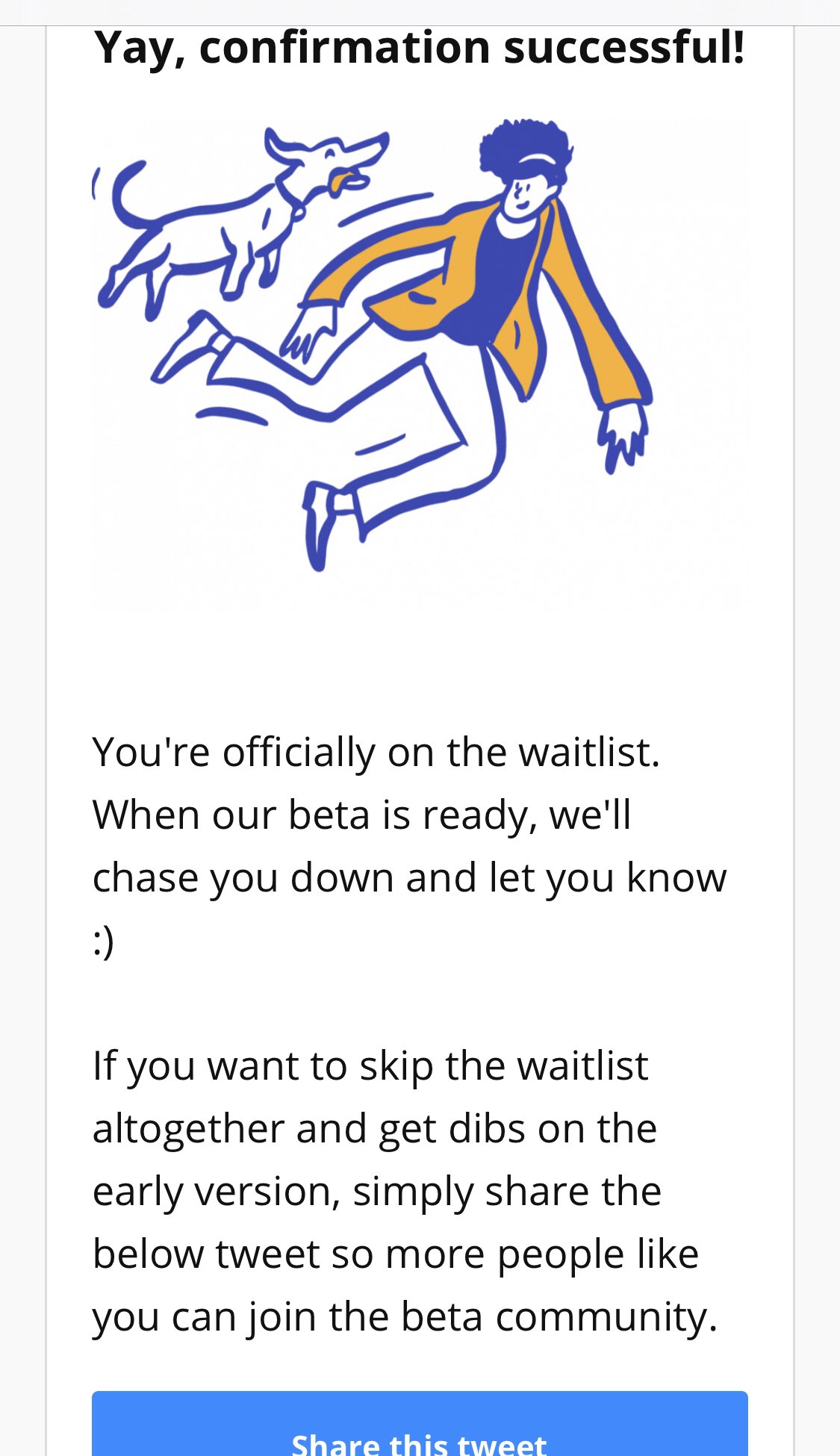 Make it easy to share 🤝
I always have pre-composed tweets behind most buttons using "Clicktotweet". It's the little things that matter - people love editing the copy and just hitting tweet than thinking from scratch.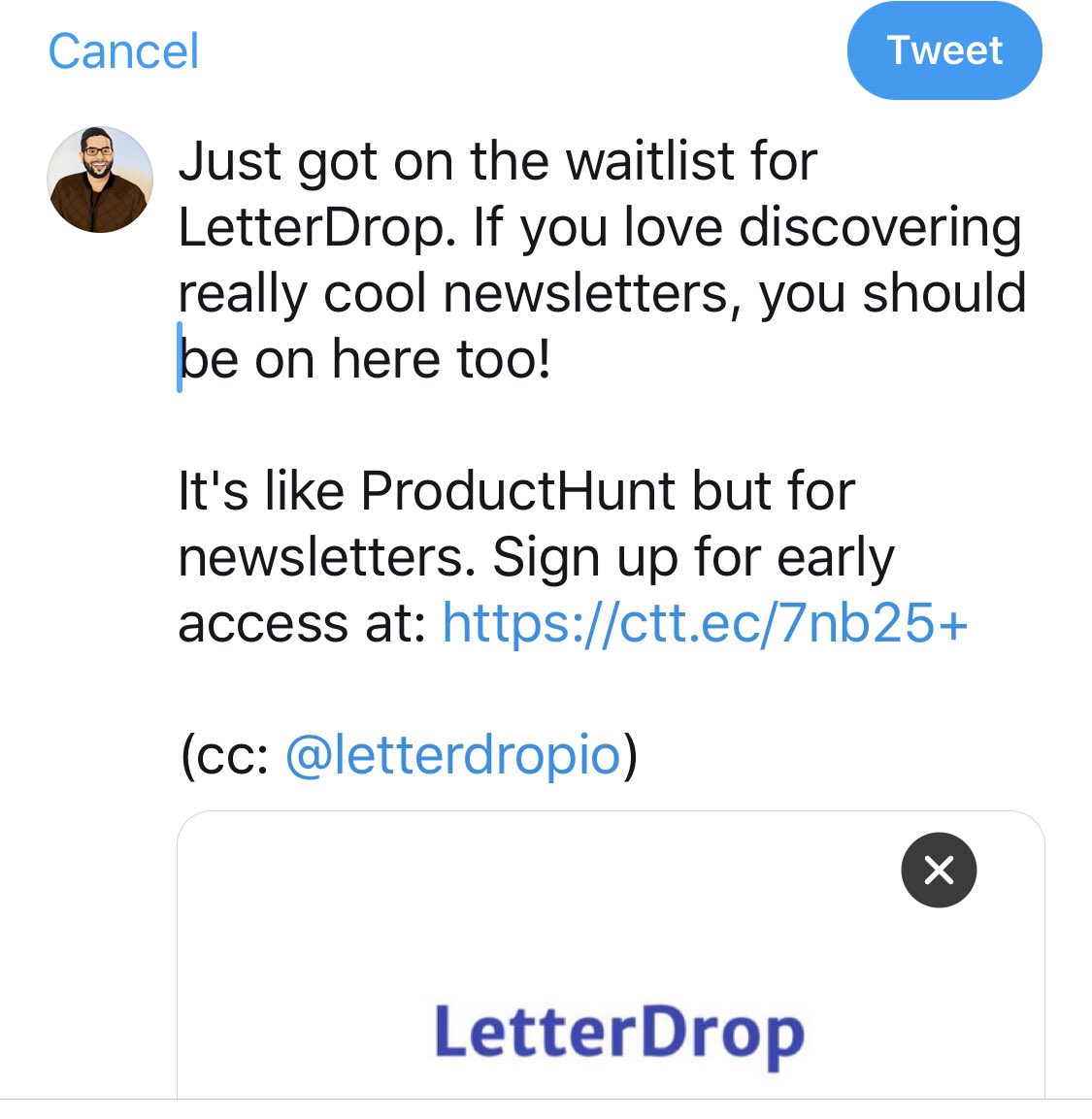 Treat super fans like royalty 😇
The small percentage of super fans who went thru the hoops for you have to be absolutely thanked and recognized. Among your waitlist, these are your most passionate audience. Give them more value, tweet at them, slide into DMs, show love.
Build In Public 🔦
Let people know what you are building way before you have an MVP.
Use a landing page to share your thesis & attract the right users. Make it clean, easy to digest and just high-level.
Note: Here are my essential tips on building effective landing pages:
https://twitter.com/thisiskp_/status/1272875859125448706
Roll out invites in batches 🧵
My playbook is:
I share v1 w/ my mastermind group of makers and a handful of founder friends I trust
I iterate on their feedback & within a week, launch it to super fans on the waitlist
The full waitlist
My Twitter
IndieHackers or ProductHunt
Build audience each day 😍
I may not be shipping each day but I'm always sharing the story of what I'm building to get people excited --- either in private or public. My default assumption is no one cares about my idea --- it keeps me humble & reminds me to share stories.
Treat beta seriously
A beta launch is as important as a real public launch. I do my best to build community from the 1st user - listen to them, reply to their emails/tweets, understand how they're using the product. Not easy but rewarding because it boosts word of mouth which is the holy grail of marketing.
Use one channel effectively
I share my updates on IndieHackers too but somehow a lot of the users for my projects come from Twitter. http://LetterDrop.io grew to 505 beta ups & Cuppa is 1600+ Find a channel that works for you & stay focused in the early days
These are some lessons I've learned from direct experience. Be aware that these are largely relevant for B2C products. I'm not an expert on B2B launches.
Hope this was helpful!
If you loved this piece, please upvote & reply below for questions :)
If you want to learn with me, follow me on Twitter at https://twitter.com/thisiskp_
Thanks for reading! 🙏🏼
PS: I'm building a new project called "Build In Public" that you might be interested in. Sign up here: https://buildinpublic.xyz/