Airbnb CEO:
"What the pandemic showed is that we can take marketing down to zero
and still have 95% of the same traffic as the year before. We're not
going to forget that lesson."
This is a great headline, but there's WAY more to it. 👇
First, yes, that's... SEO.
But to think they can let it slide forever is... dangerous.
According to Ahrefs:
Airbnb's monthly traffic is often around 15M.
Vrbo? 6M.

But traffic doesn't tell the whole story...
Also according to Ahrefs:
Airbnb's monthly traffic value is $4.9M.
Vrbo? $4.5M.
Right now, they're competing evenly in traffic value from SEO.
SEO is a moat to defend your castle, but you can't check out and think nobody is gonna eat your lunch.
Before we get to part 2, here's how they built that moat with "programmatic SEO" (graphic via Foundation):
Second, saying they cut "spend" is a bit of a misnomer.
Airbnb still spends quite a bit on "marketing" including a TON of marketers in growth that work on SEO (probably not 502 of them, though):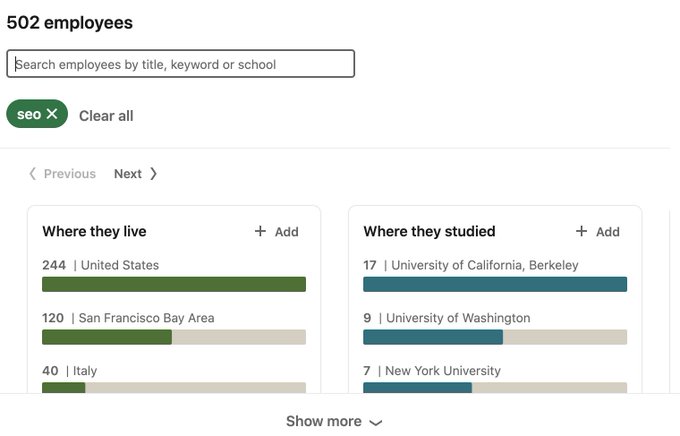 You can see those investments in the team paying off at different intervals:

That's what I ❤️ about SEO.
You can cut ALL other marketing spend, and even probably some of your SEO spend, and still ride that wave for a while.
That's what you can do when your business is the NOUN and the VERB for what you do.
Now, they can move on to more interesting phases of their business. More from Airbnb's CEO:
"In Q4, >90% of traffic was direct or unpaid. Our strategy is... a
full-funnel marketing approach. The top of the funnel is actually
PR... that's how we really built the brand of Airbnb more than
anything, is PR."
Investing in SEO is probably one of the smartest things you can do for your business.
What do you think? Bad move by Airbnb? Brilliant?
If you enjoyed this, would you also like to get my SEO newsletter? I write a weekly email that dives deep on SEO topics just like this. 🙌
Also, please let me know what questions you have about SEO in the comments below. I'll answer EVERY SINGLE ONE!
PS - Want to know who the real competition is for Airbnb?
Google, itself.
In the near future, expect them to move into the short-term rental space the same way they did with Google hotels and Google flights.