Hey guys, Joel here I'm the founder of recently launched membership platform - Paytable.io. I've been meaning to do an honest write-up of what it really took to get my product from idea to actually turning over some money, but you know how it is as a bootstrapped founder!
Last October (2020) I had an idea to make a Saas product that enabled people to sell access to curated Airtable content & gate access to Airtable resources, directories & databases, I didn't know it at the time but ultimately what I was to build would become a full full blown membership platform with Payments, user logins & the ability to gate access to all your favourite no code tools documents (not just Airtable).
By around January this year (2021) I had the first version of the product which at the time looked a little like this: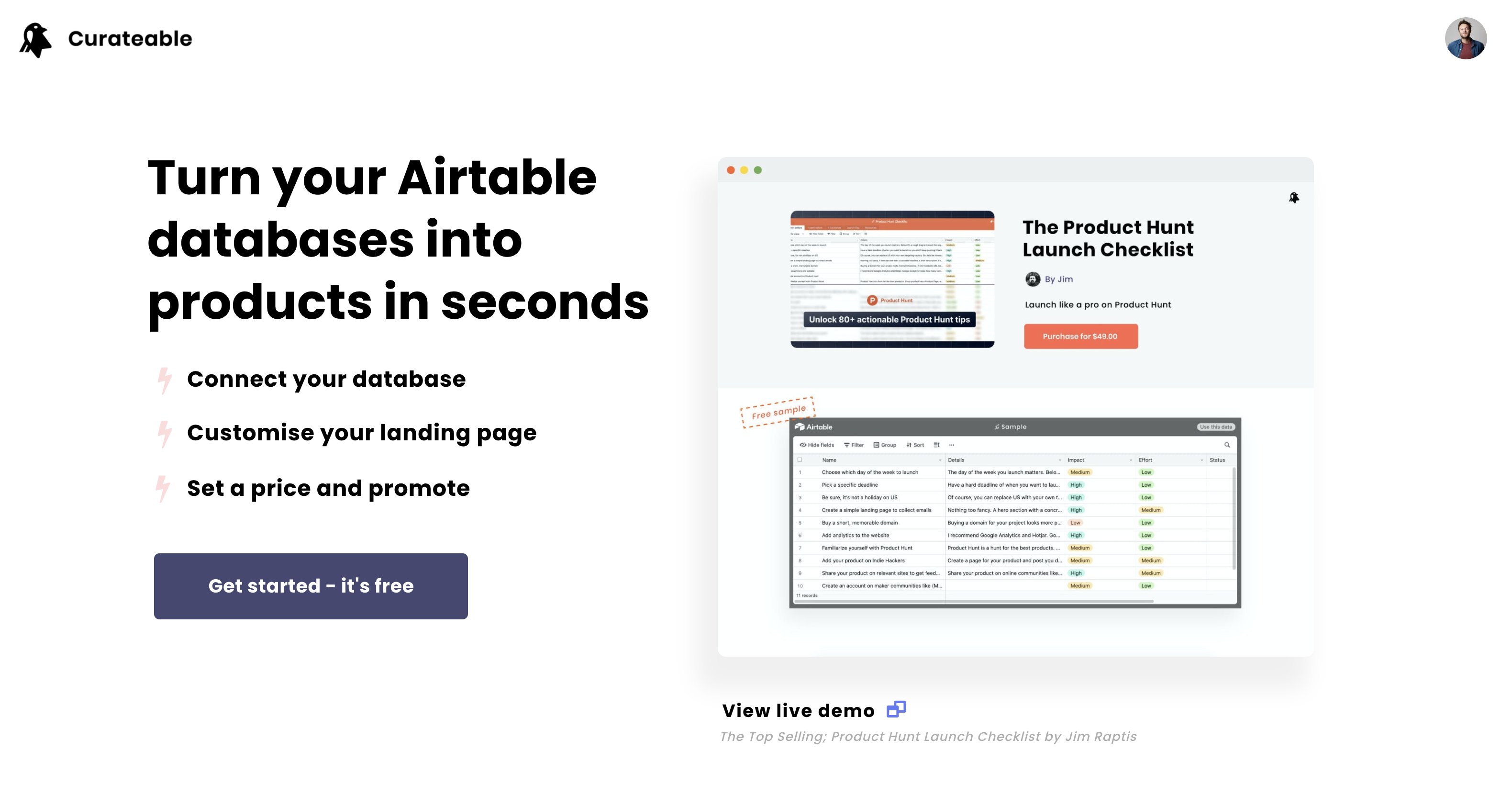 The name was initially Curateable - my thinking being that I was creating a product that enabled people to curate content. It was totally wrong and didn't say what the product really did, meaning when I started DM'ing potential users, most people didn't really know what it was, how it worked or how to set it up with questions like how can I use it on my site and how can I white label it?
I had made a vital mistake - I had positioned my product at the every day maker and creator and hadn't really thought how users could fully white label their products, or even better; add it to their own domains and websites so it made more sense to their customers, the real end user.
So after some mixed feedback I went back to the drawing board, with a focus on a new name that made sense straight away and a clearer positioning to hopefully avoid the lack of clarity my ideal users were expressing.
By April here is where I was at:
When I launched version two as Paytable I still didn't even have any onboarding stuff finished or any pro / paid tiers planned out yet. I just wanted to get a product out that made sense to people, and that people would at least start using, hassle-free to help them begin selling gated access to their content, and then I decided I would focus on the paid tier after.
The queries and confusion started decreasing and I began receiving some very positive comments about my product. By around Mid May, I knew things were getting clearer and the sign-up rate of free users was increasing, I launched our pro tier end of May, sent a newsletter out to 300+ people who had given (both version 1 and version 2 of the product a go) and waited.
After around 11 days of introducing the paid tier, at a friends house one eve enjoying a BBQ I got my first paid customer who went for the annual tier of $144.
Now 6 weeks since that first paid customer signed up, I've had 9 more paid subscribers and my MRR is at $150 MRR.
It's not been an easy journey and I honestly felt like giving up after I launched version 1 and wasn't getting the response I wanted. I had this constant feeling that 'if only these potential customers could see and experience what I had envisioned in my head'. I realised I needed to make things way clearer for people and without that name change and full repositioning I would probably still be in zero club today!
Any questions? Feel free to reach out and I'll be happy to share any knowledge or lessons learnt!