A little over a year ago, I started selling my apps on an online marketplace, and I've recently reached the milestone of $10,000. So it's a good opportunity to share how I managed to earn this amount, which isn't bad given I'm a one-man-army indie dev, and the whole project is my side hustle.
I sell my apps on the LiveChat Marketplace through their Developer Program. For those of you who haven't heard of them before, LiveChat is a SaaS company selling customer service software with online chat capabilities. Why there? The answer is simple. Their Marketplace is relatively young, and there's lots of room for new apps. If you've ever tried publishing in App Store or Google Play, you surely know those are highly competitive marketplaces. For an independent developer like myself, it's much easier to squeeze into a market that doesn't burst at the seams.
I've managed to reach $10k with 3 applications published on the LiveChat Marketplace.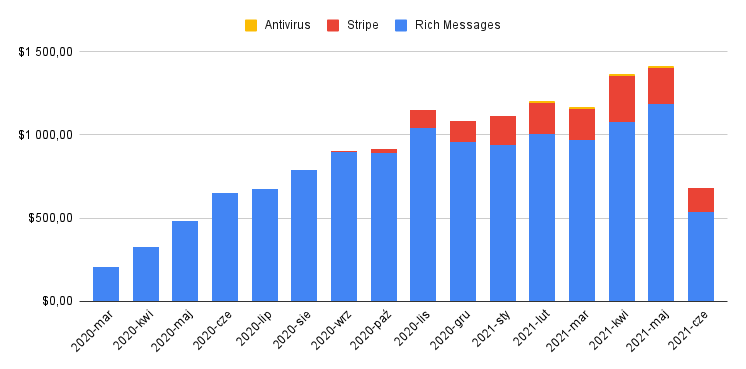 The majority of my income was generated by one app, Rich Messages Configurator. It's an app that automates and simplifies using rich messages, a functionality natively supported in LiveChat.
Another significant portion of the revenue is brought by my integration with Stripe which was a bit more advanced in development. Antivirus is my youngest app, and so far, it hasn't been selling so well as the other two.
I've recently released my fourth application that integrates LiveChat with WhatsApp. In terms of technology, it's by far the most advanced one of all four integrations. If you're a beginner, I recommend starting small, though. You can LiveChat on a trial period and see how it could be extended with the API they provide. Also, you can check out the list of app ideas in Developer Console (your own panel for building and managing integrations) and see if there's something right for your skill level.
At this point, I'd also like to add that as a developer, you need to pay a 20% commission from each sale, but membership in the LiveChat Developer Program and using their APIs are free. It's a huge advantage if you plan on building a big-scale app that would make a lot of API calls. You might still need to pay for other services, such as hosting or using a third-party API, but at least in the case of LiveChat, you can save some money on the membership/resource usage fee.