After grad school, I was a product marketer in Silicon Valley for 7 years, and I now live in San Diego where I work remotely as the director of product marketing for a series-B startup. I spend my 9-5 helping sales, product, and marketing teams hit their growth and retention goals, but I've never built something from scratch and sold it myself. To change that, I created a productized service and promoted it on Twitter.
I made $1,837 without building an audience, building a funnel, or collecting email addresses. Although this post is long overdue, it covers how I did it, including numbers, and what I learned along the way. I hope it's helpful!
I wanted answers to 3 questions
Can I show enough value that someone will pay me although they don't know me?
Can I make at least one customer happy enough that they'd like to work with me again or refer someone else to me?
Is there a profitable business opportunity that I can pursue some time in the future?
Deep down, I wanted to know if the last 10 years that I've spent employed as a product marketer carry value outside of the traditional job market. In other words, can I 'hunt' without the comforts of a large team and marketing budget?
What I did
1) I created a productized service helping indie hackers develop a compelling story that sells their product (similar to what I've done for big tech over the last 10 years)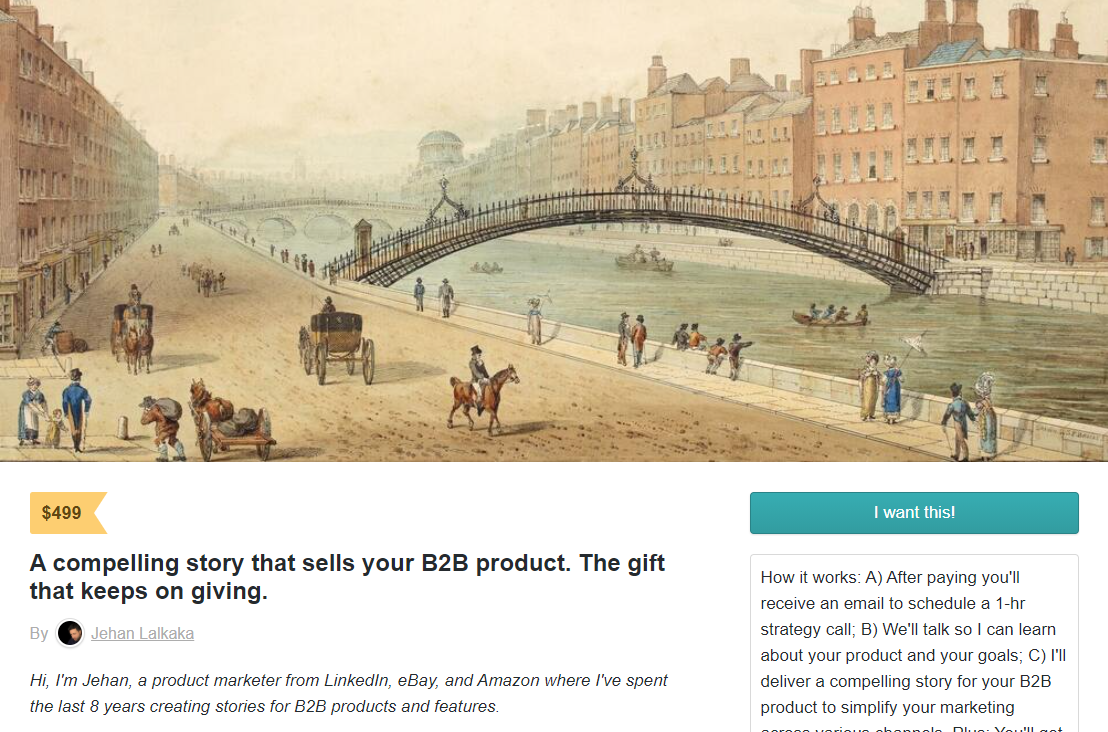 ---
2) I designed a promotion specifically for the Indie Hacker community and asked Rosie for a favor to retweet it (Which she was very kind to do. Thank you, @rosiesherry!)
---
3) I reached my goal of 5 sales in about 24 hours and worked shoulder-to-shoulder with 5 indie hackers to deliver a story for their product

(Note: one client used PayPal for payment as he couldn't use Gumroad from his location)
---
The results
Numbers: As you can see from the link above, I shaped my promotion as a tweet thread made up of 6 tweets. Four tweets were purely content and 2 tweets had a call-to-action with my offer.
Tweets:
Tweet #1 (content, no offer): 13,375 impressions
Tweet #2 (content, no offer): 469 impressions
Tweet #3 (content, no offer): 460 impressions
Tweet #4 (offer): 489 impressions, 25 offer-link clicks, 5.11% click-through-rate
Tweet #5 (content, no offer): 526 impressions
Tweet #6 (offer): 484 impressions, 17 offer-link clicks, $3.5% click-through-rate
Total sales:
Total offer-link clicks: 42
Total sales: 5
Gumroad landing page conversion rate: 12%
Total revenue from direct sales: $537 (Note: My IH promo worked out to about $107 per service; more details below)
Total revenue from add-on sales: $1,300
Total revenue: $1,837
Costs:
Total cost of promotion: $0 (again, huge thanks to Rosie)
Total time spent on client work: ~55 hours
---
I made about $33 per hour of client work. That's nothing to write home about, but I know I underpriced my service. As someone new to the scene, I initially charged $179 and offered the IH community 40% off on top. That's because I didn't have a personal brand, word of mouth, or a rich portfolio. Plus, more importantly, I was eager to get my feet wet working with a few founders/IHs.
Kind words: I was encouraged when one of my five clients opted for a $1,300 add-on and when I started receiving positive feedback and referrals from others.
---
---
Since my launch, I've set a new price so I can afford to devote my time and reflect the value I deliver.
How I did it
Here I explain the major steps I took and insights I walked away with.
1. Focused on what I know
From 9-5, I spend my time crafting messaging strategies that explain why anyone should care about a product. Essentially, what's the product story? What angle will have potential customers nodding and agreeing?
I spend a lot of time understanding how products work and how customers think about the world, so I can tell the story of why anyone should care.
Very similar to my experience in the corporate world, my exploration of IH taught me that developing a product is only half the battle. In my biased opinion, how you position your product is the other half.
2. Listened to founders and indie hackers
I believe that even the best products can't grow beyond early adopters and die-hard fans without a product marketing strategy. That's a challenge all companies face, no matter how big or small.
Similarly, I wagered that bootstrapped founders struggled with messaging and positioning too but didn't have very many high-recall, high-quality options. I wanted to know: What have they tried? Did it work? Why or why not? What gaps do they want to close but can't?
To find out, I used IH to do some research. If you click that link, you'll see that I originally set out to build a newsletter. But after talking to 8 founders in the community, I decided to build a productized service instead.
I heard in my interviews that despite countless books and courses that explain marketing, messaging, and sales...
There aren't enough hours in the day for founders to do it themselves
You can't always learn how to message and position a business by passively reading and watching content. You have to practice it (a lot) and it takes time to learn.
Instead of trying to help founders learn how to find the right message through a passive medium (e.g., newsletter or course), I decided to do it for them through a service. I wanted to work closely with founders because I enjoy getting my hands dirty, counseling others, and seeing our joint ideas come to life.
3. Went beyond customer interviews
Before formulating my productized service and creating a landing page, I wanted an even deeper look into a founder/indie hacker's life.
I circled back with my interviewees and asked them if I can help them with the messaging / growth projects they told me they're struggling with. Since I offered my help for free, I had many takers and I could choose the people I worked with.
I met weekly with 5 founders/IHs for about 6-8 weeks. I helped them develop hypotheses about their own business, conduct customer interviews, test messaging, and ultimately delivered a story that sells their product. They used our work together for their growth strategy, home pages, pitch decks, and investor competitions.
The experience confirmed what I learned through my interviews and gave me more precise answers around...
How to build awareness and trust with my target audience
How to frame what I offer using plain language that my target audience will connect with
How to deliver a service and experience that founders/IHs value
What can set me apart from other substitutes and competitors
I was initially concerned that my 'free services' wouldn't be taken seriously but that didn't turn out to be a problem. Even though I didn't charge for my time, I was somewhat surprised that people gave me 1-2 hours of their time every week, which was a signal in its own right.
4. Didn't let popular opinions about audience-building slow me down
As you can see from my Twitter profile, I have not devoted my time to attracting followers, and I've never stood up a landing page to collect email addresses. Given the level of importance placed on building an audience in popular opinion, I was concerned if anyone would buy what I'm selling.
But I found that having an audience in the form of followers or email sign-ups is a nice-to-have, not a must-have. Instead, I focused on what I believe is more important: creating a match between the 1) right audience, 2) the right message, and 3) the right context (time and place).
Everything I did from the beginning was aimed at getting as specific as possible about my target audience, what they truly care about, and how to reach them.
I interviewed indie hackers/founders from the IH community, then I created an offer specifically for them, and was extremely lucky that Rosie helps boost tweets that help the IH community.
If you're asking whether the same overlap between audience, message, and context can be achieved for any product or service, I say yes it can.
As impossible as it may seem to accomplish that 3-way overlap for any SaaS or service product, especially if an IH-like community doesn't exist for your product, I strongly believe that is the creative challenge you, as a founder, have signed up to solve for. If you solve it, you'll achieve commercial success. If you can't solve it, or if your product makes it too complex to achieve, it's very likely time to "kill your darling" and move on.
Important
To be clear, I'm not saying building an audience is a bad idea. It certainly doesn't hurt to have thousands of followers or email subscribers, and maybe one day in the unlikely distant future, I'll achieve that too. But as I explained above, there's much else you can and probably should do. For example, as a next step, I will invest time and effort in building a personal brand that signals trust and inspires confidence. So when someone looks me up as a reaction to my next offer or cold outreach, they know they can rest easy if they choose to work with me. If all goes well over time, my brand-building efforts should create more 'pull' and reduce the need for various forms of outreach.
A recap of my big take-aways
Focus on building a skill or product that exceeds expectations. Moreover, one that only you or a small percentage of the population can really excel at.
Don't be frugal with your time and money when it comes to customer research, which is where you'll very likely find your secret sauce. I'm 100% sure someone reading this will try to copy the service and messaging I've created. However, I'm confident that those copycats will gradually fade away. Why? Because they don't know what I've learned about founders/IHs, nor can they deliver what I can.
Find a match between the right audience with the right message, and at the right time and place. It's just as or more important than building an email list or followership.