Tyler Bryden spent the first part of his life devoted to hockey. But like many competitive athletes, he found himself out of the game and unsure of what to do next.
"In 2013, at age 21, my hockey career culminated. I struggled with purpose and mental health. I gained over 100 pounds. I reached a critical low and had to do a lot of work to heal and reframe my perspective on life."
With support, he focused on recovery and his passion for technology. He enrolled at Fanshawe College to study interactive media production. During the first year, several close friends and connections asked him to design and build small websites. As those requests increased, he created his first company SixFive Interactive.
Between classes and business meetings, Tyler sought a better way to balance his work with his own wellbeing. To do this, he began constantly documenting meetings, thoughts, research and more. As he did, he started to notice interesting similarities between optimizing his health and the marketing he was doing for clients, especially in the ways they demanded tweaks and ongoing documentation to reach his goals. He also saw significant gaps in existing platforms to help with this process.
Tyler started to form an idea for a media analysis system that automatically extracts insights from language and communication that would be valuable both personally and professionally.
After sharing his idea with some existing customers and supporters, Tyler began building the first version of Speak Ai, with the mission to transform media content into incredible assets for growth.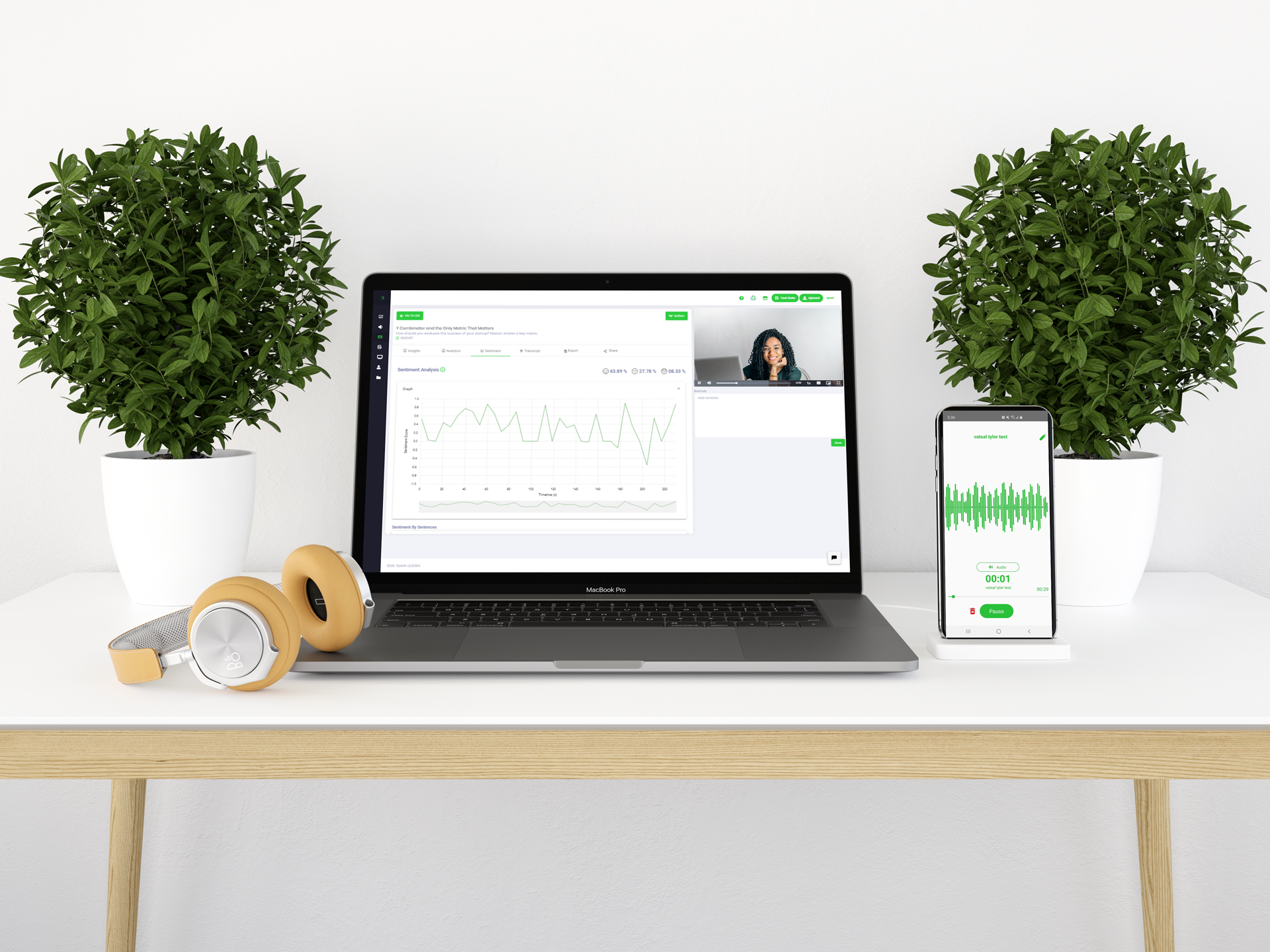 But Tyler couldn't and didn't want to build something like this alone. He needed a strong technical partner, and he was lucky to find one on campus when he met Vatsal Shah.
Vatsal, who had a passion for voice technology, was at the time pursuing his Master's at Western University. He already had experience building large-scale IoT projects, and when he and Tyler met, they instantly connected over the Speak Ai concept. That was December 2018, and they've been a team ever since.
Armed with a small amount of funds from investment by Tyler, the Western Accelerator and Ontario Centre of Innovation, the team got to work on their first fully-functioning MVP.
Speak Ai's Tech:
platform is based on Node.JS and Python for the back end
Angular with typescript for the front end
Flask web framework, NLTK, and Tensorflow for Machine Learning
Figma for design
LogRocket for debugging
For marketing, Google Analytics, ActiveCampaign, and WordPress
Speak Ai launched the first version of their platform on app.speakai.co in October 2019 with an in-person demo launch at Innovation Works to 40 attendees.
Growth did not come immediately. Balancing existing customers and building Speak Ai was difficult. The software was complex to explain, early paid marketing attempts didn't convert, and the sales process for organizations was lengthy.
These issues were then compounded by the pandemic. The team saw several longtime customers with physical locations close down. Tyler and Vatsal had also just moved to Toronto in January 2020 as part of the prestigious DMZ Program, only to have the whole city shut down a few weeks later.
But, they've continued to grow since 2019, and Speak AI currently earns $15,000 MRR on a freemium pricing structure, with plans named after the growing stages of trees.
Their free tier is the "Seed Plan". After that, monthly, the Sprout Plan is $19.99 USD, the Sapling Plan is $49.99 USD, and the Forest Plan is $99.99 USD. The higher plans unlock suites of features, team management, and deeper analysis. Organizations looking for full access to APIs, bulk media analysis, and custom solutions can access personalized plans.
Their expenses are straightforward, too. They pay approximately $23,000 CAD per month for salaries and wages, $125 CAD per month on rent, $1,500 CAD a month for software subscriptions and $1,750 CAD per month on other administrative expenses such as legal fees and security implementations.
"This is not just a business for us. We've used this platform and process to help navigate through many things. We know it can do the same for others."
Customers are using Speak to analyze and transcribe audio and video and extract insights from text. Many have the goal of saving time, increasing productivity, improving research, optimizing well-being, and growing search engine rankings.
Interestingly, some of that success has been through using the platform for the emerging psychedelics movement, of which Tyler is a passionate advocate.
"We've had a few exciting moments that have driven flurries of sign-ups: virtual events like Microdose's Virtual Psychedelic Conference , speaking and training sessions like this MasterClass for TechAlliance, a surprise Twitch live-stream event, an interview with the amazing Anne-Laure Le Cunff of Ness Labs and a mini-viral tweet Vatsal made about software development that was retweeted by Naval Ravikant of AngelList."
The team is confident they will keep growing in 2021 now that they're seeing increasing referrals, sign-ups, and inbound leads on search engines, LinkedIn, Medium, Indie Hackers and other channels.
While a major part of Speak Ai's income still comes from analytics implementations and consulting, software-as-a-service (SaaS) is the eventual goal.
Tyler and Speak Ai are focused on significant but sustainable growth. Their team is open about their ambitious public product roadmap, which they share publicly.
"We've built a strong foundation. To be successful we just need to refine, focus, and listen to our customers."
We asked Tyler if he has any insights from his own journey for other indie hackers. He shared:
Whatever it is you do, if you do it authentically it will resonate with the right people and unlock opportunities you never thought possible.
Do your best to break past your perfectionism and share your work. Iterate as you go. Gather feedback, correct, and progress.
Stay curious.
Do what you love.
Have fun.
The journey and pandemic have taught Tyler a lot about how to balance technical needs with business decisions and how to build a company capable of delivering value for both individuals and organizations. Before, he used to rush between meetings, events, networking, and fit in the technical work where he found slices of time.
"When the pandemic came, I realized how frantic that was. All of a sudden I had the ability to focus. I started to block out morning meetings so I could enter a flow before lunch. The quality and quantity of my work improved many times over. I am grateful to be much happier."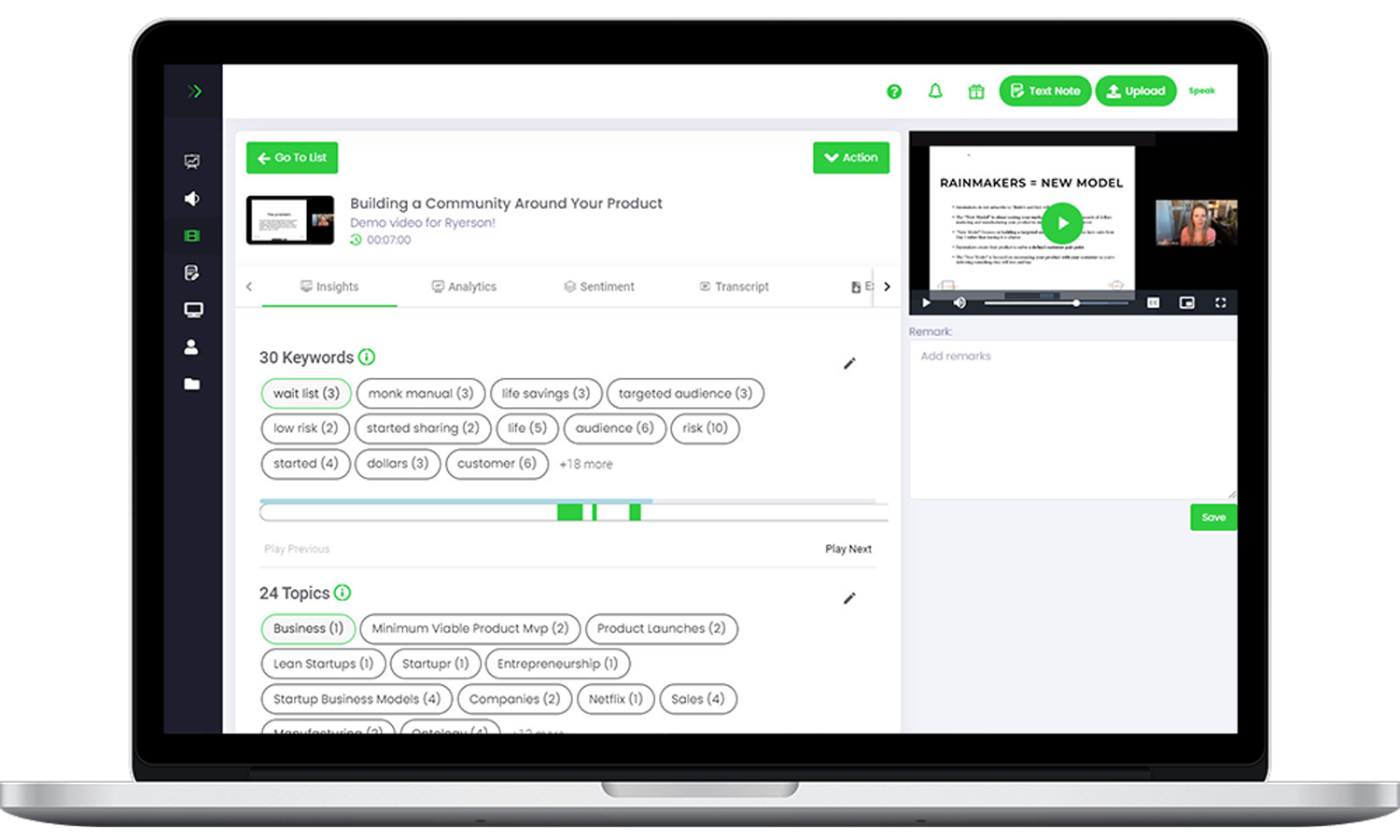 You can join Speak Ai's Slack Community, check out their YouTube Channel for tutorials and in-depth conversations, or sign up for Speak to share your feedback which they value deeply.
If you want to connect with Tyler, please feel encouraged to visit his LinkedIn, and personal website.
Love The Deep Dive? Follow Halden on Twitter @htisthinking!