(from the latest issue of the Indie Hackers newsletter)
Google Search has introduced continuous scrolling:
When users reach the bottom of a Google Search result page, the next set of results will automatically load without having to tap to the next page. This update is a game changer for your SEO.
Searches for "rage rooms" have steadily risen throughout the pandemic, with 8 in 10 adults in the US reporting increased levels of stress. Here's how founders can get in on the rage craze.
Founder Colleen Schnettler bootstrapped a file uploading service to $1K MRR in 6 months. She reflects on Simple File Upload's biggest obstacle and beating developer perfection.
Want to share something with nearly 85,000 indie hackers? Submit a section for us to include in a future newsletter. —Channing
📱 Google's Continuous Scrolling
from the Growth & Acquisition Channels newsletter by Darko
Google has introduced continuous scrolling to Google Search for US English results on mobile. In light of this update, being on the second page of Google results might actually be worthwhile!
Google's scrolling update
Continuous scrolling: When you reach the bottom of a set of search results on your phone, you won't have to tap to go on to the next page. Instead, the next set of results will automatically load so that you can continuously scroll down to see more information.
The opportunity: This change will undoubtedly cause more people look at page 2 of Google's search results; they'll really have no choice since Google will load the results automatically.
As a result, if you rank on page 2, you should see an increase in traffic. If SEO was lower on your list of acquisition channels before, you might want to move it up a few spots.
Apple Search Ads
Apple Search Ads rise: Apple's ATT privacy update caused a huge problem for other ad networks. The only network that still provides accurate ad measurement is... Apple.
As a result, marketers are flocking to Apple to use its search ads. The Financial Times' Patrick McGee found that Apple's privacy changes have significantly impacted Apple Search Ads:
Apple's advertising business more than tripled its market share in the six months after it introduced privacy changes to iPhones.
Here's another interesting stat from his research:
Search Ads now drives 58% of all iOS app installations that can be tied back to paid ads.

That's more than three times its 17% share a year ago.
The opportunity: When lots of advertisers start to spend more money on something, it usually means that thing is working (or at least has the potential to work).
If you have an iOS mobile app, and want to increase the number of installs, try experimenting with Apple Search Ads.
Twitter's new carousel
The change: Twitter has introduced multi-destination carousel ads, allowing you to promote up to six products with a single ad.
A carousel ad is a group of swipe-able posts (Twitter allows up to six posts). Previously, if you wanted to create a carousel ad on Twitter, each post would take you to the same URL.
With this new update, you can specify that each post in a carousel ad takes you to a different URL (hence, the "multi-destination" part). You can also change the headlines and landing pages for each post.
We took this for granted on platforms like Facebook, but Twitter's implementation opens up some interesting possibilities.
The opportunity: With Twitter multi-destination carousel ads, you can effectively turn six ads into one. This is useful if you're testing different features for your SaaS or mobile app and want to see which ones people like best.
It's also useful if you have a variety of offers, products, or pricing plans that you want people to see all at once.
If you found Twitter ads to be too expensive, this could be the thing that pushes you from "too expensive" to "positive ROI."
What do you think of Google's continuous scrolling? Comment below!
Discuss this story, or subscribe to Growth & Acquisition Channels for more.
📰 In the News
from the Volv newsletter by Priyanka Vazirani
💬 Facebook is planning to change its name.
📌 PayPal is looking into buying Pinterest.
👄 This Taiwanese teacher uses Pornhub to teach math.
💰 The first Bitcoin ETF has traded nearly $1B shares in one day.
😎 Gen Z is ditching AirPods to create a "throwback economy."
Check out Volv for more 9-second news digests.
😡 Exploding Topics: Rage Rooms
from the Exploding Topics newsletter by Josh Howarth
Online searches for "rage rooms" have shot up throughout the pandemic, with nearly 8 out of 10 adults in the US reporting that the pandemic is a significant source of stress in their lives. Here's how founders can cash in without breaking plates.
Rage room craze
A rage room is a bookable venue where people can release pent-up anger by smashing up household electronics and other objects. The first rage room opened in Japan in 2008, and the trend soon spread to cities around the world. Rage rooms are part of the natural stress relief meta trend.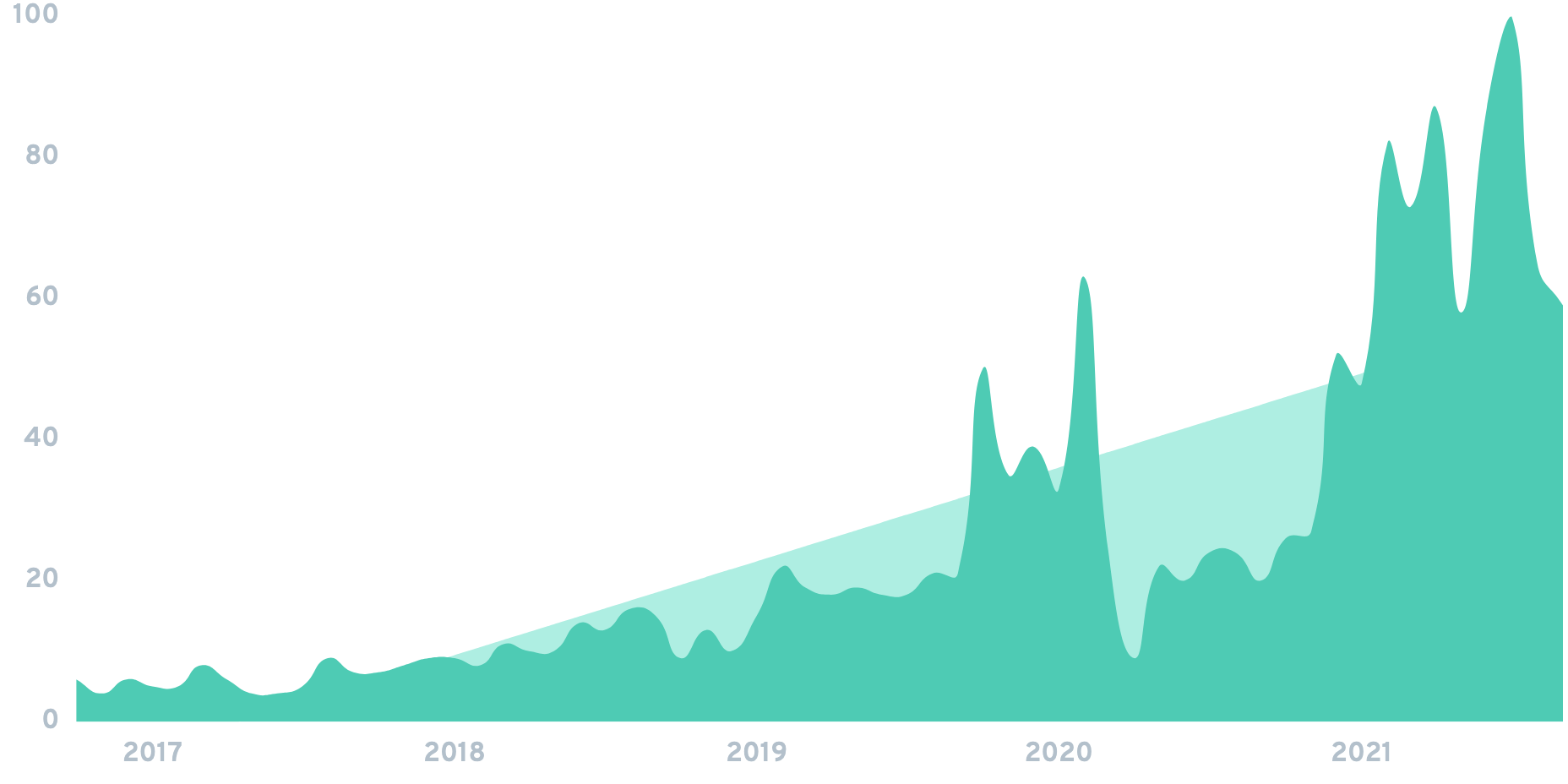 Smash Therapy, a New York-based rage room, routinely attracted 750 customers per month prior to the onset of COVID-19. Pre-pandemic, over 3K pounds of electronics were destroyed there every week.
Searches for "rage rooms" have shot up through the pandemic. There are now ~50K searches per month, which is significantly higher than pre-pandemic searches.
According to the American Psychological Association, 2 in 3 US adults have suffered increased stress over the course of the pandemic, and 3 in 5 Americans are "overwhelmed" by the number of issues facing the country.
Opportunities
Founders can explore several opportunities in this space:
Supplying rage rooms: While some rage rooms have BYOB options, they all offer items for people to break. Many depend on vendors and suppliers for items to rage out on. You could create and scale a rage room starter kit, offering items to break, safety items for participants, and cleaning equipment to handle the aftermath of each session.

Room design expert: Rage rooms require a certain setup to ensure that essential items, such as light switches, HVAC systems, lighting, cables, etc. are not damaged during the sessions. New rage room owners looking to "rage proof" rooms seek advice and expertise on this. A service offering consults geared solely towards this purpose would likely do well.

Licensing and permits: Depending on where you are located, rage rooms may still be relatively new to your area. Many cities require specific permits for them, and cutting through the noise can be difficult. Furthermore, for those starting a rage room, music licensing also comes into play. Founders can help streamline the licensing and permit requirements for rage room owners with tech or tutorials that break them down step-by-step based on the city, state, and country. You could become the authority in launching rage rooms on the permit and music licensing end.
Natural stress relief
In contrast to the "smash therapy" offered by rage rooms, other areas in this meta trend include guided sleep, meditation, and yoga. Insight Timer provides all three. The app boasts 467K reviews across the iOS and Android app stores, averaging 4.9 stars.
Insight Timer's customer retention is 5x better than competitor Calm, and the app accounts for 63% of all time spent on meditation apps in the US. There is room for more innovation in this space, including niche products geared towards various groups of users.
Other topics to watch in the meta trend include jade combs, CBD gummies, and shatavari.
Check out the full post to see this week's other three exploding topics.
And join Exploding Topics Pro to see trends 6+ months before they take off.
Would you go into the rage room business? Share in the comments below!
Discuss this story, or subscribe to Exploding Topics for more.
🧠 Harry's Growth Tip: Conversational Copy
from the Marketing Examples newsletter by Harry Dry
Use your customers' own words. It's the easiest way to get the tone right.
Go here for more short, sweet, practical marketing tips.
Subscribe to Marketing Examples for more.
📁 Colleen Schnettler's Simple File Upload Hit $1K MRR in 6 months
Hi IH! I'm Colleen Schnettler, founder of Simple File Upload, a product that allows you to integrate file uploads into your website in minutes, no servers required.
After many failed product attempts, I bootstrapped Simple File Upload to $1K MRR in six months. My first product was an iOS app. It was a B2C app, and I quickly learned that B2C was not the space I wanted to be in!
As developers, we want our products to be perfectly tested, perfectly coded, etc. I got stuck in a cycle of reading about being a founder instead of actually trying things. I thought that if I just read one more book about starting a business, I would be ready. My advice is to just start!
AMA!
What's your acquisition strategy?
My biggest driver of traffic is Heroku, and most of my customers come through the Heroku marketplace. With previous products, I never had a distribution plan. I initially offered this product as only a Heroku add-on to help solve for this. I really haven't tried much beyond that besides talking about it on my podcast and Twitter. I did see spikes when I guested on other popular podcasts, so that's probably something I should do more of. I'm trying to get some content going to see if that helps as well.
How did you identify this as a pain point for developers?
As a consultant, this was something I had to do over and over. In Rails, there are four main ways to upload files: Paperclip, Carrierwave, Shrine, and (more recently) Active Storage.
Every project I worked on used a different gem, so I had to learn them all. This was time consuming and annoying. Setting up AWS is such a pain, and you've got to explain to the client that they need to pay for another service (and you can't tell them how much it will cost)! So my pain was twofold; it was annoying for both the developer and the client.
What are the benefits of being part of a marketplace?
The marketplace really gave me the boost I needed to know this product had potential, and to get it to a place where I can learn how to market. As a solo founder with almost no audience and no marketing knowledge, it was a great channel. That being said, Heroku has incredibly high platform risk, and there were a lot of hoops to jump through. For example, you're required to get 100 users before charging.
It was nice to launch without having to write any billing code! I'm team marketplace because a lot of the heavy lifting (i.e. validated customers) is already in place. Hosting on Heroku, and the product being available in the Heroku app store, makes the integration and payment easy for Heroku customers. It's one bill instead of several.
I'm looking at Cloudflare next...
Can you speak about your audience?
I had a small audience on Twitter because of my involvement in the coding community. I definitely think this helped, as opposed to starting from zero. I had several people encourage me along the way (and they still do)!
I also joined MegaMakers and a few other Slack groups for support and encouragement. I think that launching in a marketplace first helped a lot with traction, too. I'm still exploring traction channels!
What's your product's biggest obstacle?
The biggest one is that I have to catch the developer at the beginning of their build process. I don't currently have a way to migrate from AWS to Simple File Upload, but that could always be an avenue for future growth.
Would you build it again?
Probably not. Hosting and file management is such a pain, and there are so many abuse vectors. However, maybe that's why it's been successful? It's a hard and annoying problem to solve, especially considering that I also provide a CDN and store the files across two different storage providers. The infrastructure is complicated, which is another reason people pay for it instead of building it themselves.
Discuss this story.
🐦 The Tweetmaster's Pick
I post the tweets indie hackers share the most. Here's today's pick:
🏁 Enjoy This Newsletter?
Forward it to a friend, and let them know they can subscribe here.
Also, you can submit a section for us to include in a future newsletter.
Special thanks to Jay Avery for editing this issue, to Nathalie Zwimpfer for the illustrations, and to Darko, Priyanka Vazirani, Josh Howarth, Harry Dry, and Colleen Schnettler for contributing posts. —Channing