Hey! 🖐 It's been a while since I shared an update about Sidemail. To my excuse, it's because we've been busy smoothing the rough edges from the initial MVP and acting on the feedback we received from our early beta users. Our to-do list is almost empty now. The reason is that we wanted to launch Sidemail somewhere around this time. But, since the COVID-19 happened, we're postponing the official launch. In the meantime, we thought we'd offer Sidemail for free as a part of our early adopter program — no invitation required.
For those not familiar with Sidemail.io, it's an email service that helps deliver emails to your users, customers, and subscribers in the easiest way possible. @krvrbova and I spent our weekends building it for the past 2 years (it happened all so fast! here's my first IH milestone). We put a lot of effort into making Sidemail stand out with its UX — think Stripe or Zeit. If you feel Mailchimp or ConvertKit is too complex, give Sidemail a try. If you're moving quickly and feel like Mailgun and Postmark require too much custom code to make it all work, try Sidemail, it'll surprise you.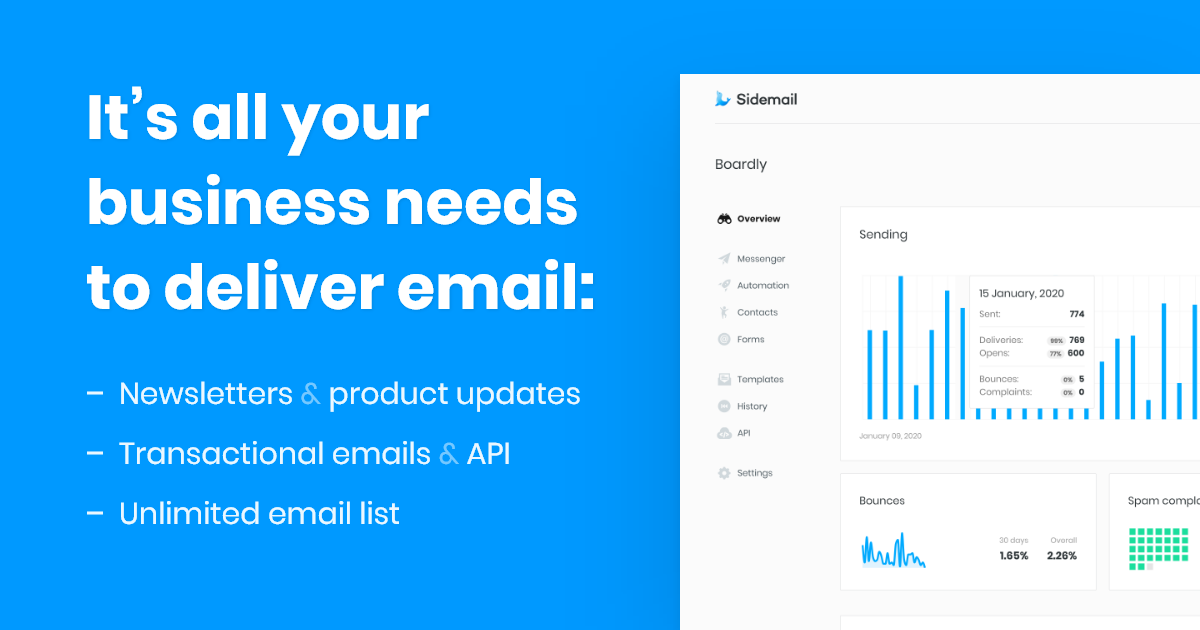 We decided to include 1500 emails per month for free and access to all Sidemail features, to name a few: email API, unlimited subscribers, no-code email templates, and email automation. That should cover you whether you're newly turned Indie Hacker, starting a new project, or looking for an upgrade :).
To sign up for the free early adopter plan, create an account here. Just a heads up, it's a bit of a secret that we offer this plan, so that's why you won't see any mentions about it on our landing pages, and you'll see "start 7-day trial" instead.
I'm all ears when it comes to feedback, so please, do tell.