First, @rosiesherry does a bang-up job moderating spam in the community and helping to foster great conversations, so credit where credit is due.
But an underlying question remains:
Why is the baseline rate of toxicity in this community so low?
It's an online community after all, and anonymity is allowed. So why don't our comment sections resemble those on Hacker News, where people constantly jockey for status and one-upsmanship, and otherwise engage in Simon Cowell-esque behavior?
Exhibit A: Dropbox launches on Hacker News. Someone manages to squint their eyes and rack their brain to find fault: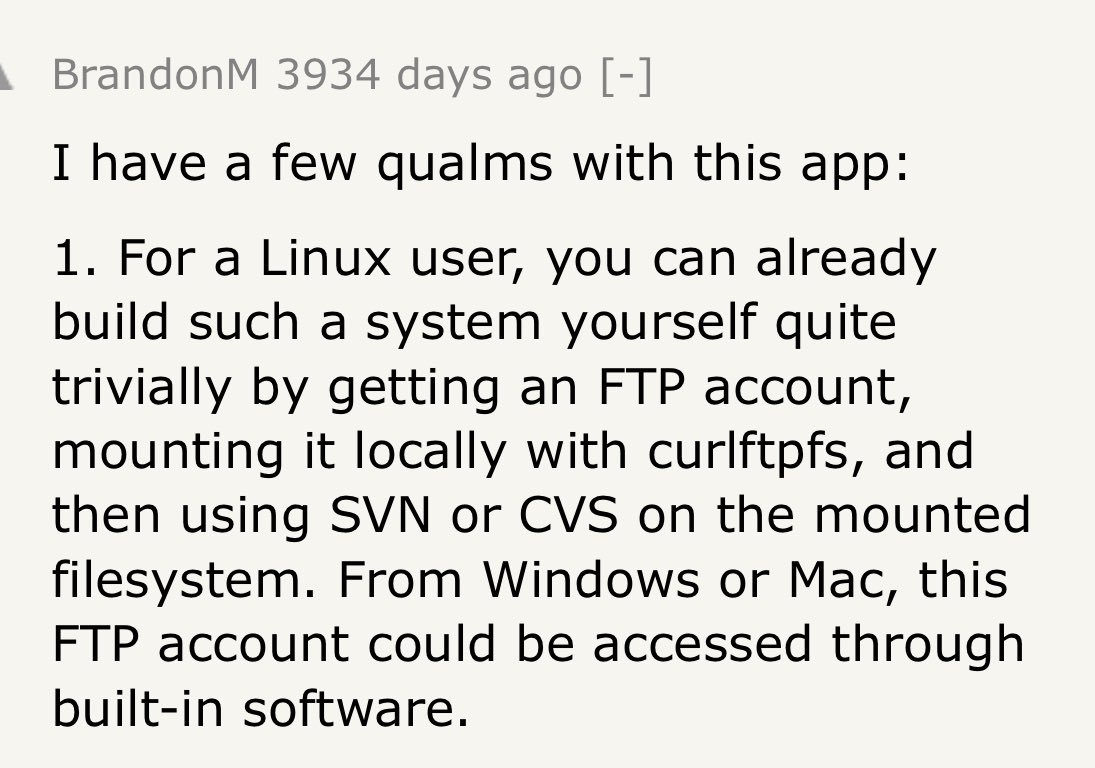 My hypothesis: actually embarking on entrepreneurship forces us to get out of our comfort zones and confront our weaknesses, which is very humbling.
We're like a bunch of movie critics who've all had to start writing our own screenplays. Great way to convert criticizers to empathizers!
Steve Wozniak highlights the entrepreneurial struggle
Anyway, this is all mostly just context for posting an overlong excerpt from Jessica Livingston's incredible Founders at Work.
Here you have Steve Wozniak — the Steve Wozniak — confessing his vulnerabilities around transitioning from developer to founder (I've added some italics for emphasis):
Mike was going to finance us, and then one day he said to me, "You have to leave Hewlett-Packard." And I said, "Why? I designed two computers and cassette tape interfaces and printer interfaces and serial ports and I wrote a Basic and all this application software, I wrote demos, and I did all this moonlighting, all in a year."

He said, "Well, you have to leave Hewlett-Packard." It just wasn't open. I went inside of myself and thought about it. "Who are you? What do you want out of life?" And I really wanted a job as an engineer forever at a great company (which was Hewlett-Packard). I wanted to design computers and show them off and make software. And I can do that on my own time. I don't need a company to do it. So there was an ultimatum day—I had to decide by a certain day if I was willing to do this. I met Mike and Steve [Jobs] at Mike's cabaña at his house in Cupertino. Eventually we got around to it, and I said, "I've decided not to do it, here are my reasons." Mike just said, "OK." Steve was a little more upset.

About the next day after I said no to starting Apple, my parents called me and said, "You really ought to do this." (Because $250,000 was a big deal in anyone's life.) And then friends would start calling me. That day my friend Allen Baum called me in the afternoon, and he said, "Look, you can start Apple and go into management and get rich, or you can start Apple and stay an engineer and get rich." As soon as he said it was OK to do engineering, that really freed me up. My psychological block was really that I didn't want to start a company. Because I was just afraid. In business and politics, I wasn't going to be a real strong participant. I wasn't going to tell other people how to do things. I wasn't going to run things ever in my life. … I just couldn't run a company.

But then one person said I could be an engineer. That was all I needed to know, that "OK, I'll start this company and I'll just be an engineer." To this day, I'm still on the org chart, on the bottom of the org chart—never once been anything but an engineer who works.
No insightful action items to share here. Only point is, if you're wearing many hats or getting way out of your comfort zone, pat yourself on the back (and keep patting everyone else around here too).
Especially if you're a solo founder. You're doing what Steve Wozniak couldn't bring himself to do.