Building a Tool for Indie Gamers and Making Revenue on Day One
Hello! What's your background, and what are you working on?
Hi! I'm Davit Masia, creator of PixaTool.
I got my start in the 2000s as a game artist, remaking classics like Head Over Heels, Knight Lore, and others. As an artist and designer, I collaborated with a developer to make about ten flash games using AS3, and they were sponsored or self-published using advertising from Newgrounds, MochiGames, and other ad services. We also made some match-three games for Xbox 360.
For the last 5-6 years I've created game prototypes, mockups, and assets on my itch.io shop called Kronbits, where I handle everything from the design to the programming. (Initially I used Multimedia Fusion to make these games, and now I use Construct 2.)
On January 1, 2018, I released a standalone version of PixaTool, though it's been available as part of an existing assets pack on Kronbits since September. In the weeks since the standalone release, the site has gotten more than 20,000 visits, and the tools has been downloaded 1,500 times, generating more than $3,000 in revenue.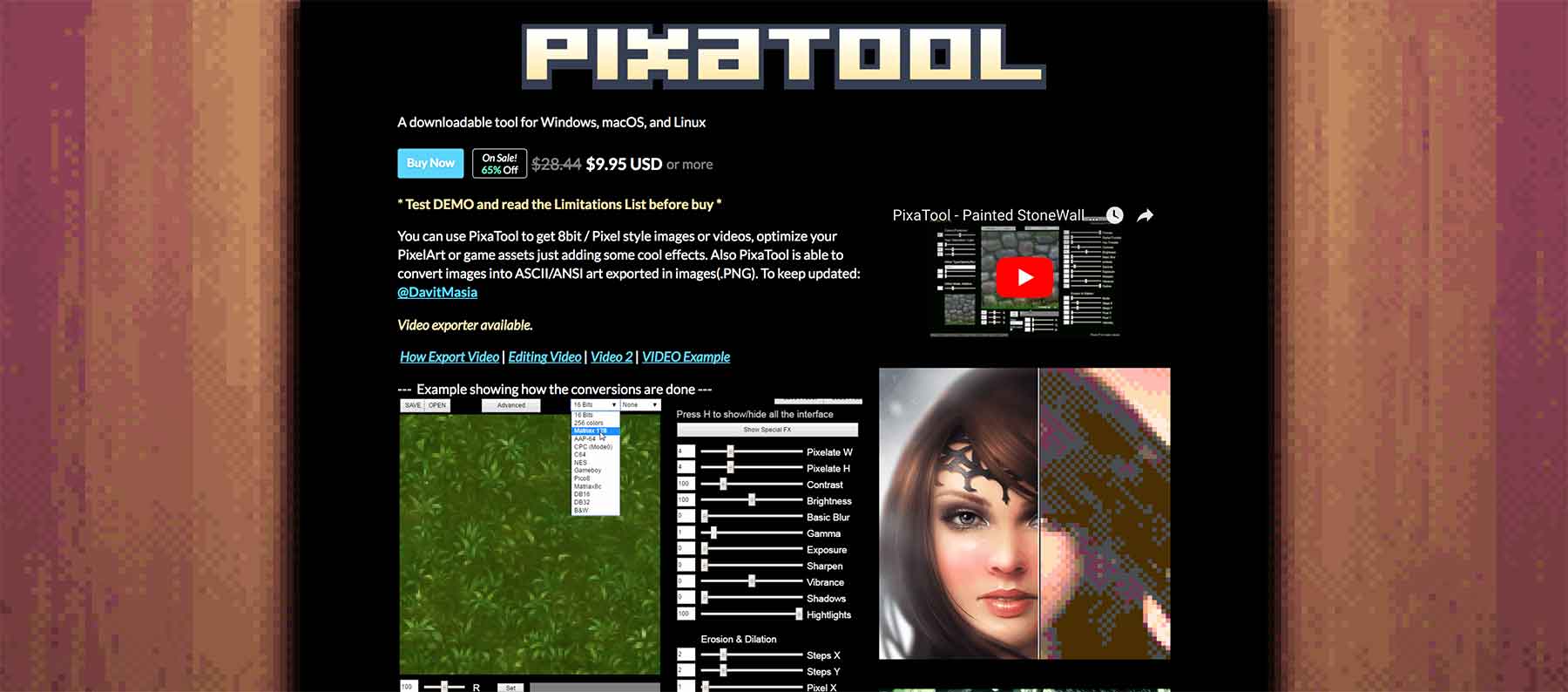 What motivated you to get started with PixaTool?
Well, PixaTool started as a simple 1-bit conversion tool for 3D projects. It allowed you to add 1-bit textures with some other basic visual effects, like black-and-white, brightness, soften, etc. The idea was to develop a tool to speed up the process of applying pixel filters to images and videos.
I had no previous experience developing this kind of software, only games, but I really enjoyed the process of learning how to come up with, implement, and test out the visual effects.
I posted GIFs of my progress on Twitter account, and based on people's reactions I adjusted the features that would go into the final product. For example, I removed the black-and-white filter from the default feature set and instead made it an option for working with full-color images. People had a lot of fun seeing these updates in real time, and many took me up on the opportunity to give feedback.
Eventually, they began to regularly ask for a standalone version, since, at the time, PixaTool was only an add-on for a 1-bit assets pack.
By then, I'd begun to forget that all this started as a simple tool for a game I was developing, and I started to focus full time on it. The MVP that I had in mind incorporated all the features people had been suggesting on Twitter, including 720p real-time editing, a video exporter, batch processing, and more.
What went into building the initial product?
As I mentioned, I started developing the idea in September and added the first version of the product as an add-on to an existing assets pack, updating it on a daily basis with more options. Overall, I think it took about two months of full-time work to build the standalone version that released on New Year's Day.
I didn't use any visual references, since the initial idea had just been a tool for my own purposes. I just continuously added more features and improved the interface on an as-needed basis, like organizing all the buttons and sliders to give a better sense of where everything was.
I ran into lots of problems in the process, since Construct 2 is HTML5-based and therefore relies on high-level event logic (such as or and and logic gates), rather than lower-level code with more powerful flexibility.
So I had to rely on certain things to add new features. First, there needed to be an existing plugin that handled the functionality I was looking for. Second, the plugin needed to work well on Windows, Linux, and Mac after I used an NW.js wrapper to export it for desktop use.
Unfortunately, some things that worked in preview mode didn't work after export, but with the help of those who were following on Twitter, I fixed every critical bug that prevented use on different operating systems.
Here's a look at the first version of PixaTool: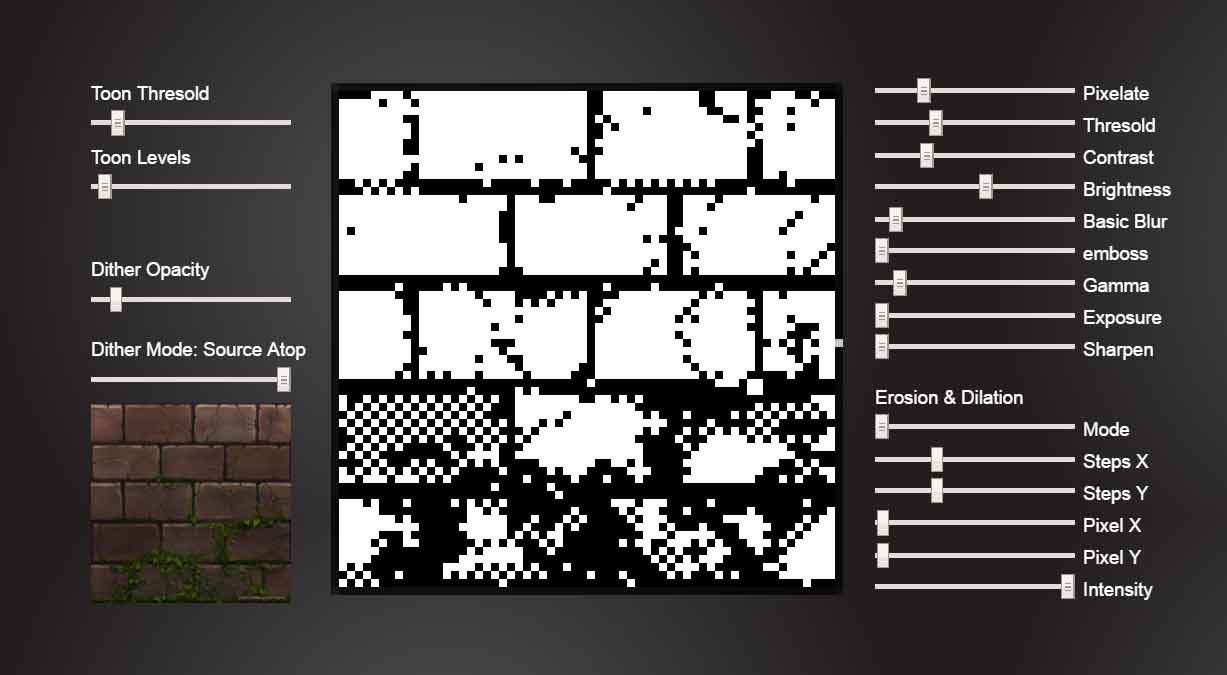 How have you attracted users and grown PixaTool?
I've done all my promotion up to this point via Twitter. Even the promotional posts I've made on other platforms, like Tumblr, have tended to be shared tweets. So I can safely say my personal Twitter account (@DavitMasia) is the center of my work, business, and marketing. That said, I plan to expand to email marketing, forum posts, and other growth efforts in the future.
Ahead of my launch, I promoted PixaTool by making daily posts on Twitter, dating all the way back to the first 1-bit version of the software. I would try to attach one image, GIF, or video to each post, along with some information, links, and tags, (like #PixaTool).
I occasionally posted with the hashtag #ScreenshotSaturday, showing videos and GIFs of a 3D project which used the textures converted with my tool. In these posts, I'd also provide links to my store.
Additionally, I ran some contests where people could potentially win free copies of PixaTool by reacting to the post in various ways — retweeting, favoriting, commenting, or following my account.
| | |
| --- | --- |
| Day | Sessions |
| Day 1 | 456 |
| Day 2 | 262 |
| Day 3 | 425 |
| Day 4 | 1799 |
| Day 5 | 2021 |
| Day 6 | 3051 |
| Day 7 | 2383 |
| Day 8 | 2218 |
What's your business model, and how have you grown your revenue?
I use the awesome itch.io store, which offers developers a revenue sharing option. In my case I set this to 10%, which is the default. Customers can pay with PayPal, Stripe, or even BitCoin, which is great!
Because I started packaging the tool within another premium asset pack, it's hard to say how much of the revenue is from the assets and how much is from PixaTool. In the chart below, the spikes in sales represent the day I released the color version and when projects using the software started to appear.
| | |
| --- | --- |
| Month | Revenue |
| October 2017 | 1202 |
| November 2017 | 4276 |
| December 2017 | 2433 |
| January 2018 | 4372 |
My advice is to focus on promoting your project on social media. It's the best way to get great exposure while also maximizing the amount of valuable interactions you have with your users — many of whom are other creators who can offer advice. Listen and respond to your audience. It's the key to building a community and keeping people interested.
What are your goals for the future?
One of my goals is to start generating consistent monthly revenue with the help of PixaTool, asset packs, and games, so that I can invest in future projects that require more funds to start, like a 3D project or maybe a 2D platform multiplayer game I have in mind.
I'm also in the process of designing a new pixel tool — this time to create pixel-perfect textures and tiles from scratch, and not through conversions.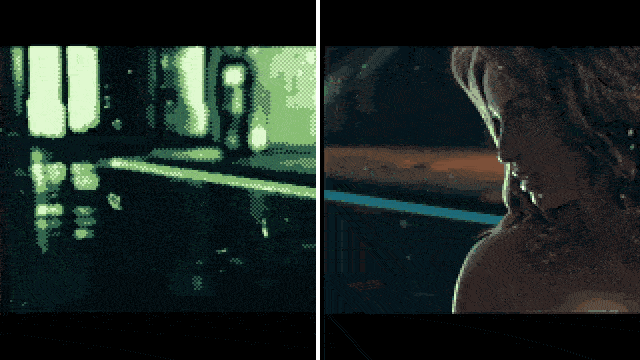 What are the biggest challenges you've faced and obstacles you've overcome?
I've struggled keeping all the OS versions of the tool updated, and I've spent too much time fixing various bugs that have cropped up due to my use of the NW.js wrapper.
So for my next tool, I'm thinking I'll stick with HTML5 and free myself up to focus only on the bugs that come from the software itself (and not from the exported versions of the software). From there, I'll use NW.js more selectively and only begin to sell desktop versions when the critical and common bugs are fixed.
Have you found anything particularly helpful or advantageous?
Having 10,000 followers on Twitter and nearly 1,000 followers on the itch.io store was really helpful for getting more exposure for the product. It also helped me gather a lot of feedback, which ultimately resulted in me adding many additional features that were never on my to-do list.
Another thing that helped was the absence of another tool that delivered the same result.
Finally, I had a bit of luck landing press coverage on big sites and being the product of the day on Product Hunt.
What's your advice for indie hackers who are just starting out?
Never give up, even on the simplest ideas. I've been involved in more than 30 indie games, and PixaTool has been more successful than any of them — even though it started out as a simple conversion tool for my own personal use.
So don't be afraid to work on things outside of your comfort zone, or things you aren't passionate about, because every product release will teach you something new that can help you on your next project.
Where can we go to learn more?
To stay updated, you can follow me at @DavitMasia or subscribe to my YouTube channel. You can also follow my itch.io store to keep track of updates and new releases.
Thanks to Indie Hackers for giving me the opportunity to share my story! And if you've still got doubts or questions, please let me know in the comments below.
—
Davit Masia , Co-founder of PixaTool
Want to build your own business like PixaTool?
You should join the Indie Hackers community! 🤗
We're a few thousand founders helping each other build profitable businesses and side projects. Come share what you're working on and get feedback from your peers.
Not ready to get started on your product yet? No problem. The community is a great place to meet people, learn, and get your feet wet. Feel free to just browse!
—
Courtland Allen , Indie Hackers founder