Self-Funding My Successful SaaS Product as a Non-Technical Founder
Hello! What's your background, and what are you working on?
Hi, I'm Rowan and I'm the founder of Vimsy, which is an online service for creating video channels. The main benefit of Vimsy is that each channel is a closed system that's branded entirely for you, so your audience isn't bombarded with unrelated videos made by other people when they come to watch your content.
Additionally, Vimsy has features like Insights, which lets video creators see who's been watching their videos (if the user has logged in) and how many of those videos they've been watching. We've found that businesses are using Vimsy for hosting their training videos where they need to log that someone's watched a video for compliance purposes or for CPD.
Vimsy can also be used for selling videos. Through Stripe, our users can take payments for videos or collections of videos on a one-off or recurring subscription basis. We have some customers who are using Vimsy to create their own equivalent of Netflix or Amazon Prime except for their specific industry or niche.
That's Vimsy in a nutshell, and I'm aware that I need to get my summary down a bit in the future!
As for me, my background is in filmmaking, and by all definitions I'm a non-technical founder. Born and raised in the UK, I graduated from Solent University in Southampton in 2013 with a first-class honours degree in Television and Video Production.
In my final year as a student I started freelancing as a videographer making corporate videos for local businesses. I formalised my efforts shortly after with my own video production company, Southpoint Films, which I also run today. You'll often find me out on shoots for our clients.
Vimsy came as a natural extension of my video production company and is currently turning over around £1.5k per month on its own, and between the two businesses we generate around £11k of revenue per month on average, based on last year's figures. Southpoint Films employs three people (including me!) and Vimsy employs none... yet!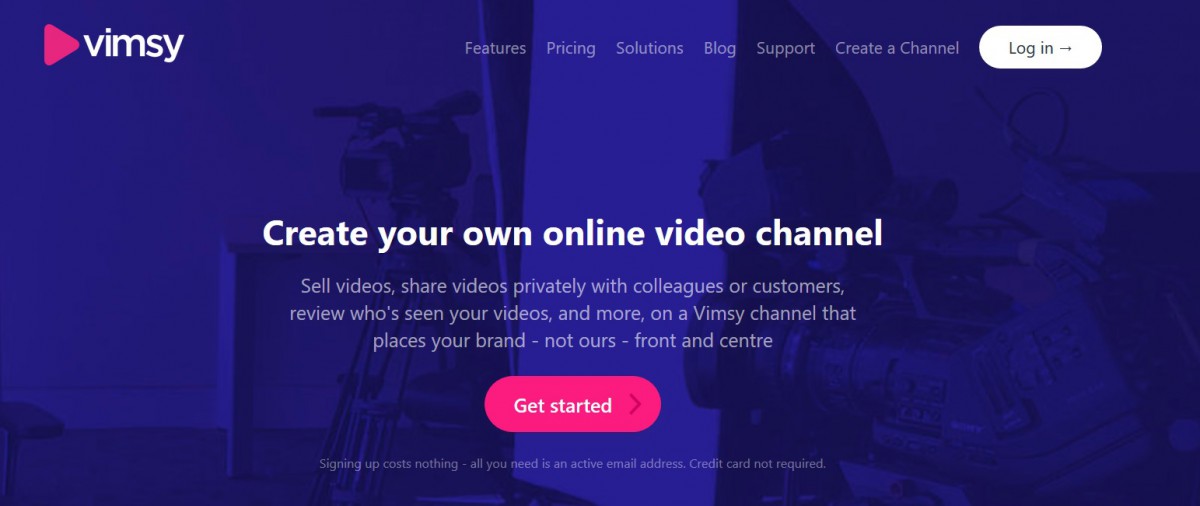 What motivated you to get started with Vimsy?
Vimsy came about because we saw a need for it with our video production customers at Southpoint Films, both broadly and specifically.
Particularly when it came to training and event videos, we would often find ourselves producing anywhere between five and twenty videos per customer. The trouble our customers had was that they didn't really have anywhere to put them and most of our customers are not very technical.
Their options were: use YouTube, where the videos would be lost in the sea of content on there or worse be shown next to "related" videos from their competitors; use something like Vimeo and embed the videos within their existing websites which were never designed for displaying lots of video content; or pay their web developers to build a bespoke solution which looked nice but cost a lot of money, and probably wasn't scalable in the long term.
We realised that if our customers were running into this problem, many businesses and creators probably were too.
The thing that sealed our investment in Vimsy was that one of our customers was using an aging, bespoke CMS to manage a library of over 1500 videos. Despite promises from their developers that the system would be updated, it continued to deteriorate to a point where our client was facing a hefty bill to have it modernised.
We took a risk building Vimsy with the hopes that we could bring them on board and fortunately, after almost a year of negotiations and proving our product to them, we were able to migrate them over and they've been a very happy customer since.
What went into building the initial product?
Although I've dabbled in web design and development over the years — from customising my MySpace page to building custom Wordpress themes for various websites I've owned — I knew that I wouldn't have the time or expertise to build Vimsy while also running Southpoint Films, which was a healthy, profitable and growing business in its own right.
Fortunately, in my position as a corporate filmmaker, I'm introduced to a lot of web development agencies who handle the technical aspect of integrating my videos with my clients' websites for them. I initially reached out to an agency based in Winchester, which is a short drive from my office, who had experience building web applications for some of my clients and running their own SaaS web projects on the side. When I explained the idea for Vimsy they convinced me that they were the right partner for us, and they've been our developers for Vimsy ever since.
As for funding, I initially put £8,000 of my own savings into building an MVP version of Vimsy. This version had no front-end interface for users to add their own content, so we had to manage everything from a fairly rudimentary admin panel behind the scenes on behalf of our customers. The MVP took about 8 months to build because, as we found out after we'd committed the project, software development takes a long time, and working with an external developer meant that we were scheduled around their other projects. This caused quite a few delays, sadly.
However, once the MVP was finished we were able to take Vimsy to a few clients, including the large client I mentioned earlier. Although they were a long way from giving us their buy-in, we were confident that we could win them over. My colleague, friend and mentor Paul French very generously funded the remainder of our development to bring Vimsy up to the fully functioning v1 product that we originally envisioned. Since that version went live in 2016, we've been able to use our income from Vimsy to invest in new features and product updates instead. We haven't had any other investment.
What's your business model, and how have you grown your revenue?
Pricing has been a tough one for us over the years, mostly because it took us a long time to work out who our actual customers were. While we knew what the product could do and the sort of use-cases it satisfied, we had no idea which of those types of user would be prepared to pay for our product. For example, would a teenager with a vlog want to pay for our service when they could just YouTube instead? (Probably not, so we don't actively look for these users.)
Additionally, and slightly more importantly, it also took a while to realise who our competitors were. When we first created Vimsy we didn't really know what other options our customers were looking at, so we had no idea where we sat in the market. Were we too expensive? Were we too cheap? When we realised who we were being compared to it became easier to price Vimsy as we knew what our customers were prepared to pay and which features seemed reasonable to monetise in comparison to what else was on offer.
As it stands today, Vimsy makes money by:
Taking a percentage of each transaction made through our platform
Selling access to certain product features as a subscription
We have three pricing tiers starting at Free and going up to $199 per channel per month. Despite being based in the UK, we price in USD as we want to appeal to a global customer base. (It's partly a contingency against Brexit too.)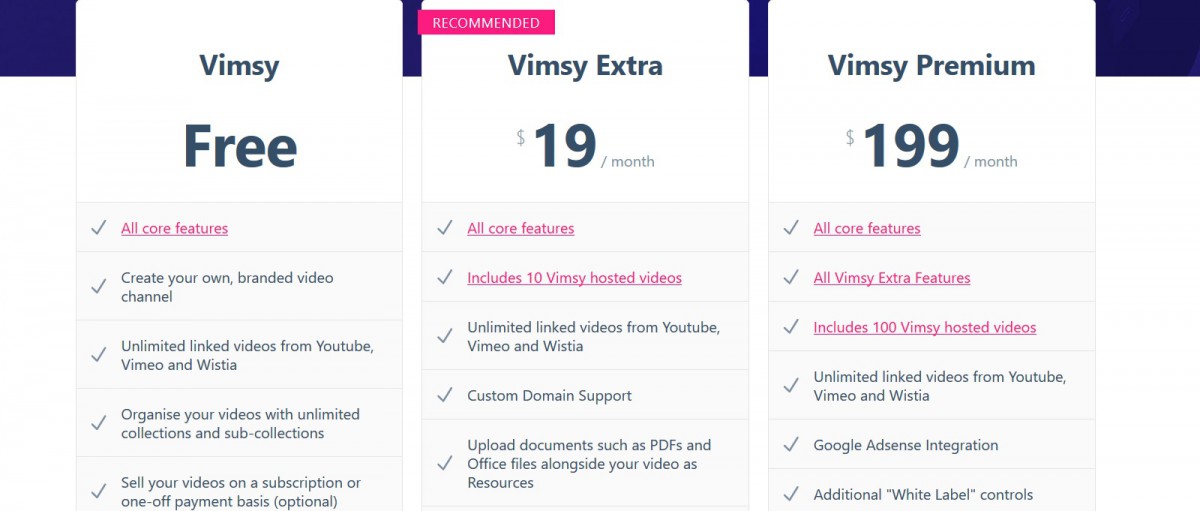 With the free plan we take a 10% commission on all sales made through Vimsy, but with our top-tier Premium plan we don't take a commission at all. There are some features we limit to paid pricing plans, but generally they're features that directly cost us money to provide, such as hosting videos and associated files, or using a custom web domain. However, we've tried our best to keep as many features available for free as we know that letting video creators grow their business on Vimsy benefits us in the long run, and too many barriers to entry will reduce their chances of being successful.
It's also worth noting from a technical perspective that all of our payments and subscriptions are handled by Stripe — both in terms of taking payments from our own customers, but also via the Stripe Connect platform for taking payments on behalf of our customers and keeping a percentage as a commission. Taking different commission percentages for different customers based on their product subscription plan was very easy to set up, and it works incredibly well in practice. Our business would be severely lost without Stripe!
How have you attracted users and grown Vimsy?
When Vimsy was just a concept, because Vimsy was being built off the back of our video production company, we were able to selectively introduce the concept to existing clients that we thought Vimsy would be suitable for and get their feedback on it. We had a few clients take interest, but the downside of introducing it this early was that some of our clients did derail us slightly.
For example, we had one customer who was ready to use Vimsy, and was fully on-boarded for a go-live date, who pulled out because they didn't like some very trivial design decisions we'd made when they finally saw it. We're talking about things like the size of a button or the footer text size. They wasted a lot of my time and our relationship suffered massively because of it. (I haven't worked with them since.)
That said, it did get better. When we launched the full version of Vimsy we started to be less coy with who we told. I remember responding to a number of questions on Quora and including links to Vimsy, and my colleague Paul would share links to Vimsy tactfully in filmmaking Facebook groups. We didn't get many sign ups this way, but we were able to get some feedback on Vimsy from strangers who had no prior relationship with us.
We also used our social media profiles a lot — both as individuals and as a business — sharing news about our progress with Vimsy. Given that most people I know are in filmmaking or video production, we got quite a bit of interest. At this point we probably had around 100 channels on our platform.
In June 2017 I attended a conference in Boston, MA called Wistiafest. The event was organised by Wistia who are one of the third party video hosting services we support within the Vimsy product. Although I was only a delegate I was able to meet with people who became interested in Vimsy.
Although we got some signups this way, more importantly I met people who were able to share Vimsy with their respective networks. For example, there were people I met at the conference who started including Vimsy in their list of video hosting companies that they recommended to their clients.
Our real breakthrough came when I submitted Vimsy to Product Hunt. I submitted my link to Vimsy casually on a Sunday evening and the next morning my inbox exploded with notifications that people were creating channels; we were trending on the front page. We must have received 500+ signups in that 24 hour period alone.
Being featured on Product Hunt really put us on the radar and I've had so many enquiries and requests as a result. Even to this day, well over a year later, people will email me because they've found us through it. I'm not entirely sure how we managed to do so well — I think it was a fluke — but I also think having a video on our Product Hunt page helped massively as it explained the product in detail and also showed that it was real, not a concept.
Since then we've continued with our efforts to put Vimsy "out there". I've submitted articles about Vimsy to various publications, such as online filmmaking magazines, and we keep reaching out to companies that we come across who we think will benefit from using it. I don't think we'll see another explosion in signups like we had from Product Hunt, but the wheel keeps turning and the snowball is getting bigger.
Before I finish my answer, I also think it's worth mentioning what we've intentionally avoided doing too. Thanks to the experiences I've had with setting up and growing my video production company, we knew to avoid many of the money pits that a lot of startups get pulled into. Specifically, we haven't exhibited at any trade shows, paid for advertising in random magazines, paid for PR, or joined any paid networking groups such as BNI or our local Chamber of Commerce. In my experience they either require a huge amount of investment to get anything back from them, or they're a complete waste of time.
Unless you know for a fact that your target audience is there, or you have lots of money to burn and time to kill, then I would steer clear. There are far better avenues for finding customers online before you need to pay to get exposure. Posting here on Indie Hackers, on Product Hunt, Reddit, Facebook, Twitter... all are far better and cost, well... nothing!
There are great avenues for finding customers online before you need to pay to get exposure. Posting here on Indie Hackers, on Product Hunt, Reddit, Facebook, or on Twitter all are far better and cost, well... nothing!
What are your goals for the future?
When we can afford it, I really want to bring our development in-house. Working with our current partners has been great, and they're doing a fantastic job of building Vimsy in a way that fully captures my vision, but there are times when I wish we could be more responsive to customer needs or changes in the market.
That's not to say that I think we're unresponsive at the moment, but I think I would enjoy having a bit more control over our roadmap and when we release updates. GDPR was a good example where we were releasing updates really close to the deadline because our developers had other customers in their queue who had gotten their change requests in first.
I'm also very conscious that we're web-only at the moment. This is fine for the majority of our customers who are using Vimsy for training and support as their audience is usually watching in corporate environments with desktop computers, but we also have customers who are effectively building their own Netflix-style streaming services on Vimsy. Mobile apps are really important for these customers so, again, when we can afford it, I'd love to start developing native apps. I can't wait for the day when I sit on my sofa at home, turn on my AppleTV, and select "Vimsy" from the home screen.
But as I said, all of this comes down to funding. We're doing fine with our current revenue, but it's not enough to invest in these things yet as both would be a huge ongoing commitment in addition to the initial outlay required to get both of them going. However, I'm reluctant to take external funding as it means losing control of what is, at the moment, a very pleasant business to run!
What's your advice for indie hackers who are just starting out?
I spend a lot of time talking to people who want to be entrepreneurs or who are thinking of starting a business. I think my biggest pearls of wisdom to pass on would be:
One: Don't become an entrepreneur if you think it's going to be fun and glamorous. It's hard work, it's risky, and it's incredibly stressful. Particularly in the early days, I would equate being an entrepreneur to being a hunter-gatherer. You never truly know where your next meal is coming from. This is not a fun feeling, and it can make you miserable. It can also put a lot of pressure on the relationships you have with your friends and family.
In the UK at least, there are a lot of institutions encouraging self-employment and entrepreneurialism because it's an easy way of combating unemployment statistics. ("They're not unemployed — they're self employed!") There are also a lot of "influencers" promoting the entrepreneurial lifestyle, too — you know who I'm talking about. Don't get caught up in the hype. Starting a business is really tough and not for the faint hearted.
Two: The worst time to borrow money is when you have no money. You'll either borrow more than you can afford to pay back, or you'll be given really awful terms that leave you with nothing at the end of it. It doesn't matter whether it's traditional financing or an investment. Grow your business organically for as long as possible because that way you keep control. Only look for finance when you're ready to take your business up a step on your own terms — don't do it because you think it's what everybody else is doing. You chose to start a business because you wanted control, don't give it to somebody else immediately. Otherwise all you'll have done is create a very stressful form of employment for yourself. (In fact, there seems to be a trend of tech companies buying out their investors at the moment. Buffer and Wistia spring to mind. They're doing this for a reason!)
Three: Strive for stability. If you want your business to carry you through for the long term, don't try to take shortcuts. This links to my previous point, but hacks are exactly that — hacks. Nothing beats patience, growing your user base and earning a steady income for you and your business. Stability allows you to grow comfortably and you get to stay in control. This is so important and incredibly underrated. There's no rush!
I know these are all a bit downbeat, but there's so much content out there that bigs up entrepreneurialism and sometimes I feel like it's important to be a realist. There are lots of wolves out there, so don't get yourself caught up with the lambs!
Running a business can be incredibly rewarding. I run two and it's the best thing I've ever done. I'm really proud of my companies and the team who work with me, and when it's good it's good, but I honestly wouldn't wish the bad times on my worst enemies. Make sure you know what you're getting yourself into before you set your heart on running a startup!
Where can we go to learn more?
If you'd like to know more about Vimsy, or if you'd like to give it a try, head to vimsy.co. Perhaps you could use it to create a video-based support channel for your product?
If you have any thoughts on what I've written here I'd love to hear from you. (Thanks for making it this far.) Leave a comment below. I'm also on Twitter as well. Thanks!
—

Rowan Johnson , Founder of Vimsy
Want to build your own business like Vimsy?
You should join the Indie Hackers community! 🤗
We're a few thousand founders helping each other build profitable businesses and side projects. Come share what you're working on and get feedback from your peers.
Not ready to get started on your product yet? No problem. The community is a great place to meet people, learn, and get your feet wet. Feel free to just browse!
—

Courtland Allen , Indie Hackers founder