Building, Launching, and Learning from My Mistakes as a Young Maker
Hello! What's your background, and what are you working on?
Hi! I'm Toni Codina, the solo founder of Twiverse, a platform for discovering Twitter users to follow based on a variety of filters and interests, to diversify your following list, and to get more followers.
I've worked on design for the last three years but as an 18-year-old woman who got into building products this year, web development and everything related to it was new to me. I had to learn on the way, launching a total of six products in just 2018. In addition to that, I am also the founder of Noon Studios and a freelance graphic designer.
Twiverse is my biggest product to date, taking several months to develop and several rewrites. The hard work paid off on launch, though, as the product grew rapidly after going viral on Twitter and hitting the front page of HackerNews. Twiverse currently has over 1,300 registered users, over 10K page views, and is making $480 in monthly recurring revenue through its patron subscriptions and single sponsor.

What motivated you to get started with Twiverse?
Initially, Twiverse was a one week project I worked on to get into a very selective university. I had come up with the idea after a long brainstorming session, and in spite of the tight deadline, managed to put together a barebones MVP (and get accepted!).
Since I use Twitter every day, tackling an issue within the platform felt the most intuitive. I have always struggled with finding new people to follow in similar fields to mine, especially other women or minorities to broaden my view. I realized I could easily create something better than the "Who to follow" feature on Twitter by categorizing each Twitter user and allowing people to browse through them by combining filters and keywords.
Through this simple concept, I began implementing a simple base to build upon but realized that it would be impossible to categorize Twitter users automatically in an accurate way. So instead, I set up a registration system, adding some data through the Twitter API and other data manually by the user. While I did consider allowing crowdsourced data into the platform in order to have more users to browse through, I wanted to ensure that it was 100% opt-in (users can delete their accounts from the platform), and I didn't want to have incorrect information in regards to interests and identity added into Twiverse.
I did want to implement more features, such as the ability to see tweets from diverse users in the platform, or a special section showing recommended users to follow based on your own interests, but I had doubts as to whether Twiverse would be well-received, so I decided to leave these features for later. Also, my objective for 2018 was to launch as many products as possible, so I had to make some strategic choices.
What went into building the initial product?
Considering that the MVP was built within a week, it didn't require any money (other than its hosting and servers) whatsoever. Once I decided to run with it, the more refined product—including general improvements, rewrites, several UX fixes, and adding new features—was built over the span of three months. During these three months, I was mostly studying for university, working as a freelancer, and learning new languages and frameworks, making free time scarce and thus slowing down development and completion.
As a beginner developer, I used PHP for the platform alongside Javascript (with jQuery and AJAX), styled with CSS, data stored in a MySQL database, hosted in a DigitalOcean droplet, and managed with ServerPilot's free plan, which worked well enough for the product I was building. Being a semi-rushed project, I didn't even consider using a framework like Laravel since I wasn't really planning on scaling it. I figured that if it ended up getting a lot of attention, I could just rewrite it entirely and simplify everything.
Most of the work went into marketing and design, as I saw these elements as crucial to the success or failure of a product. I looked into ways to improve the SEO prior to the launch, such as dividing the categories into pages in order to boost the platform in searches, having multiple internal site links, and encouraging users to share links to the site in their social networks, chats, and blogs to get a lot of backlinks. In addition to that, I also worked on a unique video to attract users to the platform, complete with an upbeat description of the issue at hand and the features meant to solve it. Possibly the most complex feature I implemented was the referral program, which rewards users with unique flairs, features in a special section of the front page, higher ranking in search results, access to Twiverse's own Telegram community, and the chance to receive one month of premium for free.
How have you attracted users and grown Twiverse?
Twiverse had a very successful launch, making more money than I ever thought it would and getting a lot of traffic and new users. While the launch and subsequent growth were certainly impressive, it wasn't totally unexpected. When developing the platform, I implemented features with launch and growth in mind.
I prepared some materials the day before launch in order to take advantage of any launch buzz and maximize exposure. I wrote the copy for the Product Hunt launch and prepared a tweet as a backup to get the word out beyond Product Hunt. Since the product is based on Twitter, it made sense to leverage it in any way that I could, especially if there was a chance to go viral. The tweet I crafted mentioned Jack, the CEO of Twitter, in the hopes that this would bolster its popularity, and maybe even make its way to him. The message and accompanying video were intentionally provocative, criticizing the current functionality of the "Who to follow" feature and claiming to solve an important diversity and visibility issue on Twitter. I also reached out to several blogs, influencers, and the press—particularly those outspoken about issues of diversity—in order to spark some initiative and support.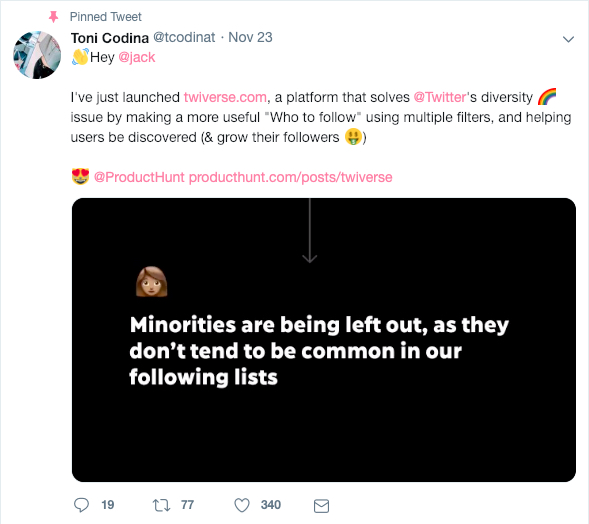 Once published, Twiverse hit the top five for the day on Product hunt, but it wasn't growing as fast as I'd expected. I'd put a lot of work into its development and didn't want to settle for "pretty good," so I sent out the prepared tweet. Huge success! I sat back and watched the retweets and likes roll in, with mentions from startup founders, diversity advocates, journalist, and even Ryan Hoover himself. That tweet drove a bunch of traffic to the website, resulting in 600 users and $340 in revenue on the first day.
In the midst of the madness, I realized that the referral program hadn't been used at all, which was surprising. After some investigation, I discovered that there was an error in the code meant to update the referral score for each user. Needless to say, this was one of the biggest mistakes in the launch, and definitely prevented Twiverse from growing as much as it could have on that first day.
Eager to maintain traction, I submitted my product to HackerNews the next day where it reached the front page. I was worried that the conversation I had sparked on Twitter around diversity would drive some people away, but I picked up 300 more users, $435 more in revenue, and reached over 9K total pageviews. I patched the referral program overnight and saw that there were now 50 users sharing the link and taking advantage of the referral benefits. I also posted to IndieHackers, where it became the most popular post of the month and pushed me to the 1000 user mark, with $480 in revenue.
Overall the launch was a success but unfortunately, I dropped the ball post-launch. I worked really hard to make a big splash but failed to consider user retention, so fairly quickly I saw a drop in traffic stats and new user registrations, as well as the cancellation of multiple subscriptions. I managed to keep some growth through word-of-mouth and by having that initial tweet pinned in my Twitter profile.
What's your business model, and how have you grown your revenue?
Twiverse is a subscription-based platform, with three plans:
Ambassador (free)— works through the referral program
Patron ($15/month)— users receive a unique flair, are stickied to the top, and shown in a special category call "Patron"
Sponsor ($250/month)— aimed towards companies and allows them to sponsor the website by showing an ad in one of the categories
While I did not expect a single subscription on launch, I still decided to implement the different tiers as an option for people to not only receive multiple benefits from the platform, but to allow me to sustain the costs of the hosting and servers, as well as contributing to the initiative. I set up the system using Gumroad simply because of familiarity, in spite of having higher fees than Stripe. I rushed the implementation of the subscription system so my approach was to generate a unique license code upon purchase that could be redeemed on a user's account, the same way I had previously done it in exposure.cards (my first product ever).
With 14 patrons and one sponsor, Twiverse is currently making $480/month. However, I expect to be down to $200/month in January due to more subscription cancellations. I plan to continue marketing through different networks and reaching out to more influencers, as well as introducing more features, in order to (at the very least) keep revenue where it's at and hopefully grow it. The initial traction from launch gave the platform a huge push, but I didn't strategize for user retention or long-term growth, and at this point, I don't know how to keep it steady or growing. This was a learning process and I'll definitely plan differently for my future products.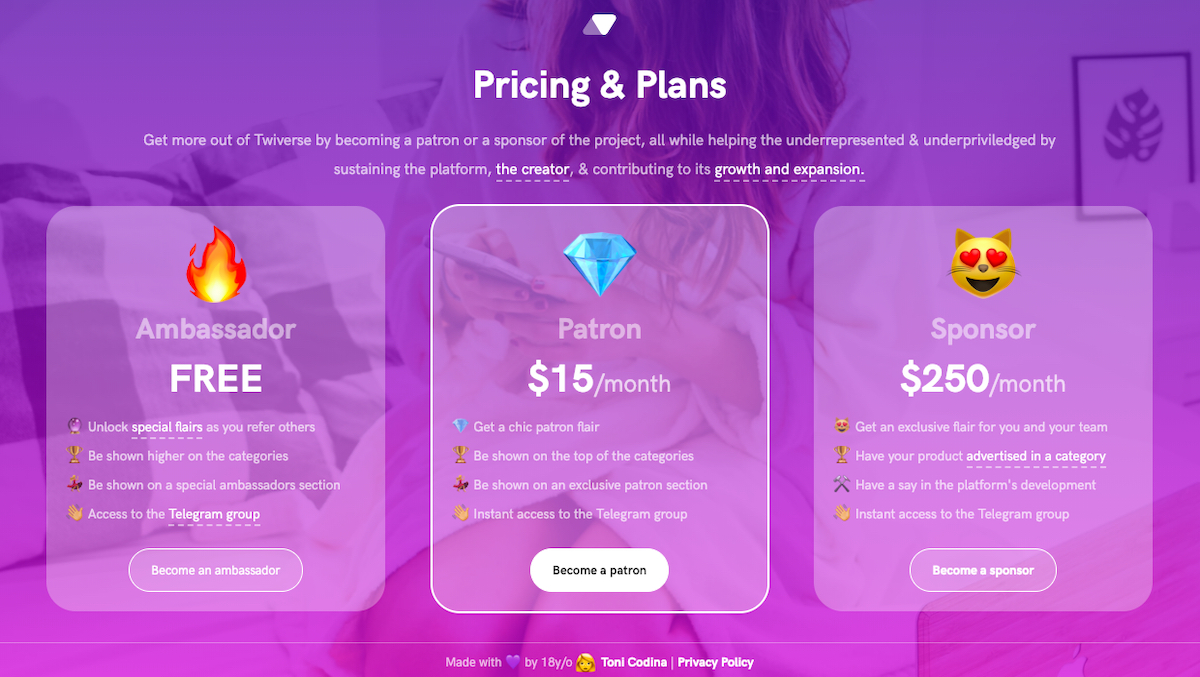 What are your goals for the future?
I have a lot of ideas on how to move forward and make sure Twiverse is the best platform possible. I'd like to reach a steady MRR of $500/month. To that end, the main focuses right now are user retention and growth. Twiverse currently has around 1,300 users, which is relatively low for this kind of platform. If numbers continue to drop, Twiverse is at risk of becoming useless for discoverability. I've also been considering releasing a second version of the site that's cleaner and more straightforward in order to drive up the conversion rate, and that takes SEO into account so I can push some organic growth.
I'd also considered trying to sell or getting acquired since that would make one of my main goals more achievable. Ultimately, I want Twiverse to become a human database with multiple data points that help people network and find work more easily, discover others to meet or collaborate with, and connect with people around the world with similar interests instead of relying solely on face-to-face connections, friends, work colleagues, classmates, family, etc. If the platform were to be acquired, I could dedicate all of my time to building out this concept. Otherwise, I may eventually get there, but it would be much riskier and take much more time.
One of the main barriers to growth is that Twiverse is dependent on Twitter's API. Currently, most user information is added manually, but the platform could suddenly be rendered useless if Twitter altered the API or its regulations. Because of this vulnerability, I'd like to move away from Twitter eventually.
What are the biggest challenges you've faced and obstacles you've overcome? If you had to start over, what would you do differently?
On one hand, developing Twiverse was fairly straightforward since it's simply a list of users that can be filtered and added to. On the other hand, since my product is fairly unique, I struggled when having to make decisions about design or figuring out the most intuitive UX because there was nothing on the market to reference. The initial platform would definitely have benefited from a cleaner design and cutting down on features that ultimately weren't utilized or were criticized by users.
The most consequential mistakes happened post-launch. I completely forgot about the platform's own Twitter account and missed out on the opportunity to keep promoting the site and gaining followers. I retweeted a few tweets but didn't even add a link to the homepage, making it extremely hard to find. And like I said, I hyper-focused on the platform's launch and initial growth numbers to the detriment of features and user requests. The success of the launch was a huge surprise to me, netting more money in three days than all of my other products combined, and I got swept up in the excitement. This was a big mistake that I'm still dealing with.
To that end, I regret not adding a simple newsletter into the site that might have kept users coming back, helped them diversify their feed, and discover new people.
Have you found anything particularly helpful or advantageous?
Although Twiverse was a project I worked on entirely on my own, I received a lot of help and support from friends and fellow makers. Some of this happened on a personal level or through communities such as Women Make, who not only encouraged me to keep at it, but also gave great feedback and ideas.
It was also extremely useful to have an early adopter program prior to the launch. I set this up through a tweet, which formed a collective of roughly 20 people that got early access to the website and had the chance to beta test and give feedback before going live. They helped spot over 15 issues in the days leading up to launch that I was thankfully able to clean up before going live.
I owe a lot of my success with Twiverse to hard work, thinking ahead, and a little bit of luck. I was able to validate the platform with lots of people before launch, and they all assured me that I would go far, which was obviously great to hear. I considered abandoning the project at multiple stages, thinking that I was wasting my time or going in the wrong direction, but thankfully I was able to move past these thoughts and build my most successful product to date.
What's your advice for indie hackers who are just starting out?
I've gained a lot of insight over the past year of being in the maker scene, especially around the mistakes I made when building and launching my own products. If you're just starting out, I would recommend against building an overly ambitious or super-complicated product. Ease into things or you'll get overwhelmed. When I was developing exposure.cards, I spent months and months putting it together, setting up a complex submission system, click verification, unique mechanics, a referral program, multiple payment plans, and then fixing and polishing, only to have it flop. Meanwhile, Simple Todo, a product I put together in just two days, got to the very top of Product Hunt and generated some attention on IndieHackers.
It's also really important to diversify the networks and platforms on which you are promoting your product. Take advantage of IndieHackers, HackerNews, reddit, and various social networks to spread the word far and wide and really get your product out there. Focusing on just one platform leaves too much up to chance. It also doesn't hurt to reach out to journalists and press sites or influencers that might be interested in sharing or evangelizing your product. Tell your friends, family, and community, including fellow maker communities like WIP, Solo Founders, Women Make, and Maker's Kitchen and have them help you spread the word. If you're unsure about what steps you need to take to ensure the best launch and the biggest reach, feel free to get in touch. Every product is different and I'm always open to talking things through and helping out in any way I can.
Finally, although it's good to prepare and to study the market before committing to a project, I highly encourage any indie maker to spend more time building their product than thinking or reading about it. As you're just starting out, you're bound to make mistakes, and failure is a much better teacher than books or theory.
Where can we go to learn more?
If you'd like to join the platform, feel free to sign up at https://twiverse.com, and remember that you can share it with others through your unique referral link to get a lot of different perks.
I tend to talk a lot about what goes on behind the scenes in the process of building my products on my Twitter account @tcodinat, and I have a full list of ventures in my portfolio. I am always open to collaboration, so please don't hesitate to reach out if you want to team up!
If you have any feedback, questions or doubts, feel free to comment below—I will try to respond to everyone.
—

Toni Codina , Founder of Twiverse
Want to build your own business like Twiverse?
You should join the Indie Hackers community! 🤗
We're a few thousand founders helping each other build profitable businesses and side projects. Come share what you're working on and get feedback from your peers.
Not ready to get started on your product yet? No problem. The community is a great place to meet people, learn, and get your feet wet. Feel free to just browse!
—

Courtland Allen , Indie Hackers founder